UK and Russia build bridges with Year of Culture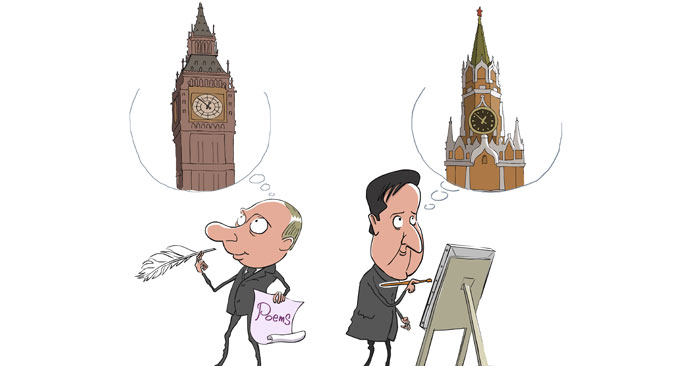 The UK-Russia Year of Culture might seem to be the victim of terrible timing, but when the program of events kicked off in February, there was no hint of what was to occur in Crimea.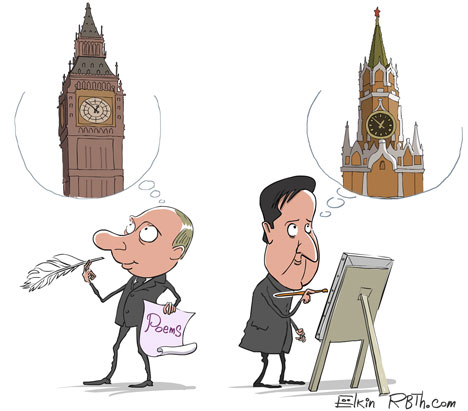 Click to enlarge the image. Drawing by Sergei Yolkin
As the political situation becomes increasingly tense, I believe that the role of cultural diplomacy will be even more important. The British Council and the Russian Embassy are carrying on with their respective programmes, the biggest exchange of arts events ever organised between our two countries.
No distractions
From my perspective as someone who runs a cultural organisation that works with Russia, we are continuing as much as possible with 'business as usual'. Politics is not going to distract us from organising our bi-annual Russian Art Week. Over the last few days, I have spoken to many of the key people bringing over here exhibitions, plays, concerts and other cultural performances from Russia. They have all voiced support for the year of culture and will be continuing with their projects.
This was evident only last week at the opening of Novaya Opera's production of Prince Igor, Borodin's rarely performed and only opera. The Moscow-based company came to the UK specially to perform as part of the Russian cultural year; I noted the English National Opera's programme did not shy away from advertising it as an official event. Audiences were entertained by the energetic Polovtsian Dances and the fabulous costumes. Much like the opening ceremony for the Sochi Winter Olympics, the opera gave us a peek into Russia's cultural history and musical heritage.
Laughter and tears
The rich Russian cultural programme on offer this year covers the visual arts, music, theatre, and literature, so there is plenty of choice for British audiences. If you want to be introduced to one of Russian's most famous playwrights, head to the Wyndham's Theatre from April 23rd to May 3 for Andrei Konchalovsky's take on two classic Chekhov plays: Three Sisters and Uncle Vanya.
Performed in Russian with English subtitles, these performances by Moscow's Mossovet State Academic Theatre will take you back to turn-of-the-century Russia with the same cast and setting for both plays. People can think of the play as tragic with sometimes dark themes but you can expect a more light hearted approach from Konchalovsky. When I interviewed the director, he told me: "Chekhov is humour and life, I like to look over my shoulder to see if he approves of what I am doing or not!" Expect both laughter and tears in these productions of his most celebrated plays.
Russia's visual art is also being presented at the moment in London with the exhibition Russian Revolution in Art, which focuses on the Russian avant-garde in the early 20th century. From April until September, Mayfair's St Petersburg Gallery will display more than 60 works from great Russian artistic pioneers such as Larionov, Goncharova, Popova and Kandinsky. The exhibition focuses on each artist's trajectory as they progressed along the path to either figuration or abstraction. A highlight of the exhibition is a fascinating collection of Soviet porcelain by Suprematist artists Chashnik and Suetin, who worked at the Lomonosov Porcelain Factory. Despite its fragile nature, porcelain outlasted many forms of revolutionary design. The pieces are accompanied by Kandinsky's rare sketches, which he created just before he moved to Germany in 1921.
Culture club
More recent artistic movements can be seen at Calvert 22 Gallery in April and May, in the exhibition Club of Friends. It explores Timur Novikov's work and two St Petersburg groups of artists that he founded in the 1980s and 1990s. Nonna Materkova, the gallery's director, says that Novikov's "ground-breaking experiments in art, music, film and design…helped change the face of contemporary art in Russia". Head to East London to see this first group exhibition in the UK of the New Artists and the New Academy; a showcase of the work of an exceptional generation of interdisciplinary artists that is not to be missed.
Later in May, Russian Art Week returns again to London with a series of Russian sales at the four major auction houses, accompanied by a host of Russian cultural events. Nearly £55 million was exchanged for Russian masterpieces during sales at the last event in November 2013. You don't need the budget for a Vasnetsov or a Vereshchagin to take part - the week will certainly cater for every aspect of Russian culture without requiring a large bank loan.
With such a fantastic programme across the board, despite the diplomatic difficulties in UK-Russia relations, the cultural year continues. Let us hope that these events will help to increase understanding between our nations. Culture once again has the chance to provide a valuable platform for dialogue and maintaining relations.
Theodora Clarke is Director of Russian Art Week in London and Editor of Russian Art & Culture.
For more information about UK-Russia Year of Culture visit The Kompass, special RBTH section for all UK-Russian cultural events

All rights reserved by Rossiyskaya Gazeta.