Implications of the Russia-China mega gas deal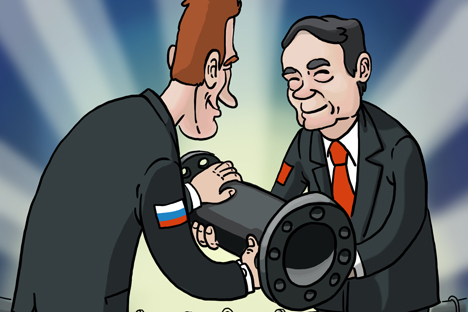 Drawing by Konstantin Maler
With this agreement 30-year agreement, Beijing resolves the problem of meeting its domestic gas requirements for decades to come.
The contract for Russian gas supplies to China that was signed during Russian President Vladimir Putin's visit to Shanghai is of an impressive scale. The timing of the deal is also to Moscow's advantage, as it came as the West was stepping up sanctions against Russia over the events in Ukraine. However, these external circumstances should not be allowed to overshadow the main point made by the agreement: A major shift has been made in Russian foreign policy and the country is returning to the Asia-Pacific region.
While the deal is being presented as Russia's success, if not a downright blessing, much less is being said about the benefits for China. Beijing is ready to pay $400 billion for Russian gas over a period of 30 years. But this is just part one of a megaproject to improve China's energy security over the long term. The contract covers supplies from gas fields near Lake Baikal to the amount of 38 billion cubic meters a year, and according to Putin, this contract opens the way to new talks on gas supplies to China from fields in West Siberia, along the Altai gas pipeline.
With this agreement, China resolves the problem of meeting its domestic gas requirements for decades to come. The country's own reserves, even taking shale gas into account, are insufficient, and LNG imports are both more expensive and more vulnerable, as they are delivered by sea. China also needs to switch to gas in order to deal with the problem of the smog created by power plants that run on coal; this environmental problem is becoming an increasingly political one for Beijing.
China also reaps some geopolitical benefits from the deal. With this agreement, it is China – not Japan or South Korea – that is creating a gas distribution system in northwest Asia. China's ability to hold its own against U.S. pressure in the region is even more stable following this major tie-in to Russia's energy resources.
Taken from this perspective, the Russian-U.S. spat over Ukraine looks like a minor episode in a global struggle for spheres of influence.
This kind of deal is exactly what President Putin was speaking about at the APEC summit in Vladivostok two years ago when he said: "We shall be strengthening the energy security not only of Russia but also of the countries that we cooperate with, of the whole region."
At the same time, this policy has broader goals.
Right after the contract with China was signed, the Russian president told journalists: "This project's implementation will see us create what will be with no exaggeration one of the biggest construction sites in the world over the next four years…. Total proven recoverable reserves at these fields come to 3,000 billion cubic meters of gas, and in fact the reserves there are even higher. They ensure us guaranteed supplies for 50 or so years, and I want to stress that this includes supplies for the domestic market, too." Adding that this scale of work will allow Russia to upgrade the whole of its Siberian infrastructure, Putin said: "This is a big event in the gas sector, not just in Russia. It would be no exaggeration to say it is a major event for the entire global energy sector and certainly for Asia."
Andrei Ilyashenko is a political analyst with the Voice of Russia.

All rights reserved by Rossiyskaya Gazeta.