Russia's national treasures on show at Russian Art Week in London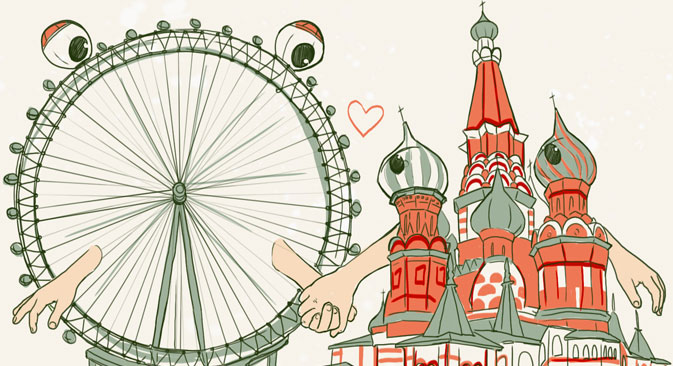 Theodora Clarke, founder of Russian Art Week in London, offers a glimpse of the forthcoming celebration of art in London, which starts on May 30.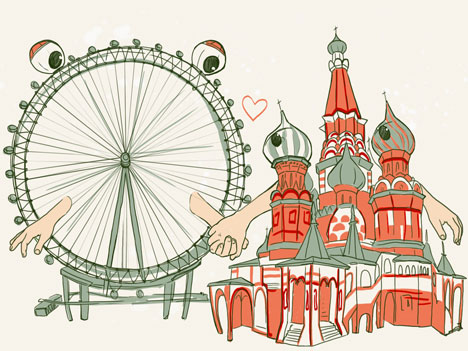 Click to enlarge the image. Drawing by Natalia Mikhaylenko
The latest Russian Art Week opens in London on May 30 and this year forms part of the UK-Russia Year of Culture 2014. For one week we will present a varied array of Russian exhibitions, concerts, ballet, and talks to the public. Our cultural programme takes place alongside Russian sales at London's major auction houses: Bonhams, Christie's, MacDougall's and Sotheby's.
Russian Art Week has previously set many world records for Russian art at auction. More than £55m traded hands during the previous event last November, as collectors bought works by greats such as Falk, Roerich, Bakst, and Fabergé. The new Russian Art Week is also offering rare masterpieces and exquisite works of art.
One of my highlights is the latest Roerich painting offered at Bonhams. The auction house will no doubt hope to follow the success of its sale of Roerich's Kanchenjunga for £1.3m. This time, Bonhams is offering The Signal Fires of Peace, an early work by Roerich painted in Karelia in 1917-18. It also has a Fabergé figure of a bourgeoise (Meshchanka) (1913), part of a series of figures in national costume made out of minerals from Siberia and the Urals.
Sotheby's returned the largest overall sales figures in November with £24m and presented the first sale dedicated to Russian contemporary art. It is again offering some exceptional works: the avant-garde pioneer Mikhail Larionov's Kneading Dough is a wonderful example of his Neo-Primitivist style, and was recorded in the listings of works by Goncharova and Larionov published in 1913 by Eli Eganbyuri.
Also expected to be popular is Kazimir Malevich's Head of a Peasant, Study for Peasant Funeral (1911). This stunning work was part of an exhibition at the Grosse Berliner Kunstausstellung in 1927. When Malevich had to return to the Soviet Union before the exhibition closed, he left the works in the charge of the German architect Hugo Häring. This painting is believed to have been a gift to Häring and his wife.
The star lots at Christie's are Vasily Vereshchagin's The Pearl Mosque at Agra, painted in the late 1870s to early 1880s, and a pair of porcelain vases. Estimated at £1-£1.5m, Vereshchagin's intricately detailed view of the mosque interior has not appeared at auction for 95 years, and was last exhibited in New York in 1916.
The vases, which were treated as canvases on which to showcase important paintings, often of the Imperial Hermitage, feature Boy Blowing Soap Bubbles by Alonso Miguel de Tobar, and Portrait of a Young Woman as Granida by Paulus Moreelse. Such vases were usually commissioned by the Emperor as important gifts for foreign royal families and diplomats.
MacDougall's, the Russian art specialist auction house, is presenting Pavel Kuznetsov's Eastern City Bukhara, from the mid 1910s, and Robert Falk's Boy with a Cap. All lots are available to the public to view at each auction house prior to the sales. With such exciting pieces on offer, there will be no shortage of drama at Russian Art Week as collectors bid to acquire the works.
Outside the auction houses, Russian visual arts will be presented across London. Pushkin House explores cultural identity through the work of 13 contemporary artists working in Russia and the UK. GRAD: Gallery for Russian Arts and Design presents a reconstruction of the iconic Shabolovka Radio Tower by the model maker Henry Milner, and Somerset House showcases a retrospective of the Soviet artist Viktor Popkov.
Outside London, Waddesdon Manor in Buckinghamshire will display a collection of objects with Russian connections, and the John Hansard Gallery at the University of Southampton presents a show exploring Moscow Conceptualism.
Theodora Clarke is the editor of Russian Art and Culture and director of Russian Art Week in London
Read more about Russian Art Week in London on The Kompass, special RBTH section for all UK-Russian cultural events.
All rights reserved by Rossiyskaya Gazeta.