Silence and Suspense: Hitchcock's Adventures in Russia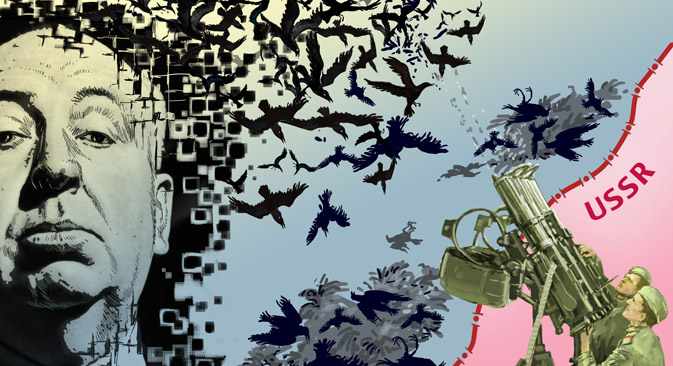 The festival "Hitchcock: Nine Unknown Films" opens in Moscow on August 1 and will screen early silent works by the director. These works are little known to both British audiences and Russian ones, for whom Hitchcock's work was forbidden fruit for many years.
Click to enlarge the image. Drawing by Tatyana Perelygina
Hitchcock assailed the audiences of post-Soviet Russia suddenly — along with numerous films that were made on the other side of the Iron Curtain over several decades. Audiences had previously only heard of him, through reading about him in articles by the few Soviet critics who were trusted to travel to the West.
Five or six American films per year made it to Soviet screens; these were films by directors whom the Soviet semi-official newspapers dubbed progressive. Hitchcock graced the marquees only once, with the crime film "Dial M for Murder."
Russian audiences were safely isolated from his best movies. "The inconsistency, and sometimes the reactionary quality of his political views, and the nature of his convictions, which developed under the influence of Catholicism, have given many of his works a distinct conservative flavour," the 1986 Kinoslovar (film dictionary), the only encyclopedia available to the Soviet public at the time, wrote of Hitchcock.
Even "closed screenings" for specialists hardly showed his work — for highbrow film experts it was too "pop"; these experts scorned the mass entertainment genres. Hitchcock's experience seemed foreign to the style of socialist realism, and the Freudian themes of his films seemed pseudoscientific.
Consequently, the school of Hitchcockian psychological suspense, which gave rise to a global film language, went practically unnoticed in Russia: titillating the nerves of viewers was considered an undignified endeavour.
The borrowed English terms "thriller" and "suspense" did not even exist — Soviet thrillers were dubbed ostrosyuzhetnoe kino, which translates to "suspenseful cinema." If the word "suspense" nevertheless penetrated Soviet cinema, it was in an elevated type of art film, such as "Stalker" or "Solaris" by Andrey Tarkovsky, a director who was intuitively sensitive to global artistic trends.
Tarkovsky was one of a small number of directors who used the popular fantasy genre for films that would not be called distraction, and he needed this skill to create an atmosphere of oppressive tension on-screen literally from nothing — camera angles, light, sound and pacing.
Yet, according to the renowned film expert Vladimir Dmitriev, the director of "The Mirror" was apathetic toward the work of the creator of "Psycho".Traces of an intuitively understood Hitchcockian style can be found in the thrillers of Vladimir Khotinenko: "Makarov", about a poet who, searching for a lost feeling of safety, buys a Makarov pistol and becomes its slave; or "72 Metres", a fatalistic study of a submarine that perishes before the eyes of an entire port city. In these cases, suspense is an important and effective technique.
It was these directors who prepared Russian audiences for the serious, non-pragmatic development of the "forbidden genre" and the ability to not seek in it only a liberal social problem, but to read artistic meanings.
And when, along with the millions of VHS cassettes that illegally flooded the Soviet video market on the threshold of the 1990s, Alfred Hitchcock's most famous films entered a changing Russia, viewers stepped into this frightening psychological world, already led by the experienced "stalker".
Hitchcock suddenly became the property of the art houses and private video collections. Around the same time, popular and "elite" cinema in Russia became antagonistic toward each other, and snobbery triumphed in professional film circles.
The Hitchcock school was formally respected, but it crossed into the category of museum works that were too conventional for realistic film: there was "too much art" in them. For example, Alexander Sokurov, who has won awards at the Venice and Berlin film festivals ("Russian Ark", "Taurus", "Faust"), fundamentally rejects the manipulation of viewers' emotions — and consequently rejects Hitchcock.
However, it goes without saying that nowadays Hitchcock frequently graces TV, and his work is shown to film students in universities. And yet, Hitchcock's early work has been little known until now — not only in Russia, but also in Great Britain.
The early Hitchcock created melodramatic stories that did not yet incite viewers to hold onto their seats; this could be a chance for many people to see him as a completely different director.
Valery Kichin is a film critic, columnist for Rossiyskaya Gazeta and winner of a White Elephant Award from the Russian Guild of Film Critics.
All rights reserved by Rossiyskaya Gazeta.