Social media alive and well despite laws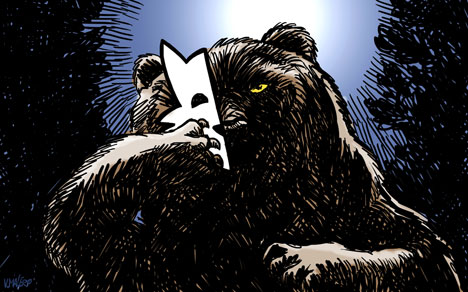 Russians flock to social networks even as the government tries to regulate the web.
Click to enlarge the cartoon. Drawing by Konstantin Maler
A new law, which comes into effect Aug. 1, will effectively subject Russia's most popular bloggers to the same laws that apply to the mass media. Under the new regulations, Russian bloggers whose blogs receive more than 3,000 visits per day will be required to register with the government and disclose their full names and email addresses on their blog pages. Additionally, the bloggers will be required to verify information before publishing it and will be banned from disclosing state secrets as well as spreading potentially libelous information.
The law is alarming Russia-watchers because blogging in Russia has been one of the primary ways opposition political figures have disseminated their views to the general public. This is not the first time, however, that the government has passed laws threatening Russia's vibrant blogging and social networking scene only to have little, if any, effect.
According to surveys, the majority of Internet users in Russia — as well as the majority of Russians in general — are not particularly bothered by the law requiring the registration of bloggers.
The government's efforts last summer to fight Internet piracy generated far more discussion. The outcry over that law, which originally stated that users as well as owners of pirated content would be subject to legal action, resulted in the eventual passage of a less-harsh version, which blocks only access to specific information that violates copyright. Attempts to combat online piracy in Russia are often resisted, as many say they believe in the freedom to share information, a concept that goes back to the dissident tradition of self-publishing (samizdat) in Soviet times.
The availability of pirated content has driven the popularity of Russia's dominant social network, VKontakte (VK). VK began life as a Facebook clone, but the site has since taken on a life of its own. Much of VKontakte's traffic is driven by the wealth of pirated music and films available on the site, most of which is curated by fan groups. VK has periodically tried to purge its pages of pirated content at the request of copyright holders. It has also signed deals with several major copyright holders in Russia to provide licensed content on its site instead. Nevertheless, VK's status as the most popular platform for exchanging free music and films is the main reason it continues to dominate Facebook in Russia.
But Russians, who are always chasing the latest Internet trend, are also now flocking to Facebook. The American site's audience in Russia is increasing, in particular among the so-called creative class: mid-career professionals who use it for social purposes and exchanging content from online media. Previously, those functions were the domain of Livejournal. That blogging platform, which was developed in 1999 by American programmer Brad Fitzpatrick, failed to take off in the United States, but became a surprise hit with Russian users.
Over time, the percentage of Russians using the platform became so disproportionate that Russian became the site's prevalent language and its parent company, S.U.P., was bought by the Russian tycoon Alexander Mamut. Today, however, Livejournal's popularity is declining even in Russia. The blogging platform has been unable to keep up with the fast-changing online environment, remaining stuck in the early 2000s. Its archaic engine and services often leave even the most conservative users disappointed. Nevertheless, Livejournal remains a popular place for sharing long stories with pictures and for joining discussions in comment threads. Many popular bloggers continue to share their posts via Livejournal and other social networks and blog platforms.
Given the varied purposes social networks serve in Russia, it's not surprising for Russians to have accounts with a number of networks, and entrepreneurs are frequently trying to create new sites to attract Russians' insatiable appetite for socializing online. Pro-Kremlin businessman German Klimenko tried in 2003 to create a competitor to Livejournal called LiveInterest and although it never caught on, Klimenko is currently testing two other products to attract the attention of Russians online.
One recent example, Mediametrics, is a rating of news stories on the basis of the number of visits they receive from various social networks. According to Mediametrics, VK, Facebook and Twitter are the biggest drivers of traffic to news in Russia. However, there are two other social networks worth noting: MoyMir@mail.ru and Odnoklassniki, both of which belong to the Mail.Ru Group. Unlike Livejournal and Facebook, which tend to attract a more affluent, urban audience, most MoyMir and Odnoklassniki users tend to be older. They are also primarily from towns in the Russian regions, outside Moscow and St. Petersburg.
Alexander Plyushchev is a popular blogger and one of the pioneers of Internet journalism in Russia.
All rights reserved by Rossiyskaya Gazeta.