Ukraine: Human cost of a war without winners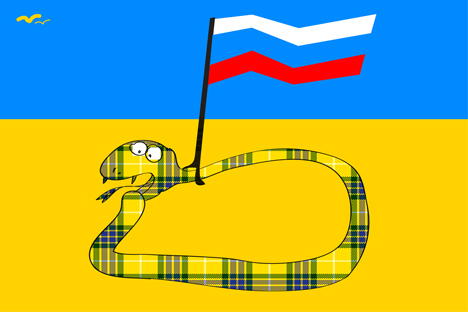 Both Russia and Ukraine lose by cutting ties, says expert Tim Lewin.
Click to enlarge the cartoon. Drawing by Niyaz Karim
When my father, British defence supremo Admiral Sir Terry Lewin, was asked in 1982 about the impending crisis with Argentina that dominated the days immediately before the invasion of the Falklands, his response was: "I cannot believe two civilised countries could settle such a difference by anything but negotiation". How easily that could have been repeated about Russia and Ukraine now.
Much has been said about the origins of what is essentially a family dispute, most only marginally accurate. Sadly the real truth, the human cost of the failure in relations between these two neighbours, seems to have been buried by the propaganda snowstorm of apportioning guilt. As with most family disputes, resolution can only come from within, and so far we see little genuine desire to restore any degree of cross-border harmony.
Many, in both countries, still find it hard to accept Russia and Ukraine are no longer joined at the hip. But until this year, the borders remained open, families visited relatives freely, trade was unhindered, Russians invested in Ukraine. Sadly, political maturity has not blossomed so healthily and this is the fundamental tragedy that is extending the agony for people whose lives are being destroyed daily.
The old ties between eastern Ukraine and Russia cut both ways; stoking the separation angst of the militants, it has also provided a lifeline for the main part of the population caught up in a war they do not support. According to the UN, almost 730,000 people have been displaced and sought refuge in Russia, some with family, some with old friends, most anywhere that will accept them to get away from the very real prospect of violent death.
Eventually this undeclared civil war will be resolved. It will fade to a footnote in the history of the break-up of the USSR. But at what price to the people? More than 2,000 civilians have been killed, up to 2,000 families who will never forget this wave of internecine madness.
Life has been destroyed; business devastated. Homes, possessions and modest comforts have been utterly destroyed, blown to bits in a pointless orgy of violence. There is no insurance; no one to help pick up the pieces. People who lived in these shattered little towns now live in tents, schools, stadiums, wherever they can find shelter.
Not a problem while summer is still with us, but in 90 days the cruelty of winter – remember Napoleon's defeat – will return. Temperatures will plummet to double figures below zero, snow will cover everything. How to live, to survive, under these conditions? This is a disaster from which there will be no winners.
Tim Lewin is an organizer and consultant for major financial, cultural and arts projects in Russia and Ukraine, and between 2003-2014 was the Honorary Consul in the UK for cultural and business affairs of The Autonomous Region of Crimea, when the peninsula was under Ukrainian rule.
All rights reserved by Rossiyskaya Gazeta.