In support of a vanished colleague: Time for journalists to show solidarity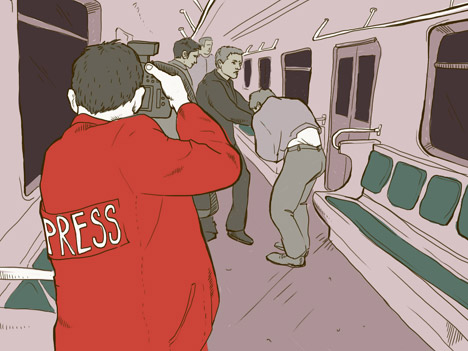 Andrei Stenin, a photographer for the state news service Rossiya Segodnya, vanished in Ukraine almost a month ago. The Ukrainian Security Service claims that Stenin participated in the torture of Ukrainian soldiers, but there is no credible evidence supporting this assertion. Freelance photographer Denis Sinyakov, exclusively for RBTH, appeals for Stenin's disappearance to be investigated and discusses the degree to which a journalist in a war zone is a participant in what goes on around them.
Drawing by Natalia Mikhaylenko. Click to enlarge
Andrei Stenin's disappearance is a great tragedy for his family and his colleagues, as well as for Stenin himself. I sincerely hope he's alive and will return home, and if he is being held by the Ukrainian forces they'll let him go.
Protectyourself
Hundreds of photographers are now running around the front lines somewhere in Syria, wanting to shoot for The New York Times, and they all believe that they're journalists, not extreme photographers, but this is far from true. I'd recommend that you ask yourself the question "why" before you go to war.
What is it you want to say about this war? The notion that your pictures will change the world is nonsense, and I don't believe that myself. Editors can't make you go. This is a journalist's own choice, and personal safety is his or her own responsibility.
I remember several situations in which young colleagues were killed simply because of their inexperience in war zones. Editors provide no protection, since the journalist is the source of information, and not vice versa. This means that you assess the risk. Editors will make you wear a bulletproof vest, but that's so you'll be covered by insurance if anything happens.
Journalistic ethics
The question of journalistic ethics in war, and whether the journalist is a participant in events, is one of the most common questions. There is no clear answer to that.
There are many war correspondents of low morals, and the vast majority of photojournalists are stupid. If someone is being beaten on the metro, how many people will come to their defense? No more than 10 percent, I think. Journalists aren't there to advocate for the victims of a war, but nor will they participate in the beating. Unfortunately, the camera and the notebook add nothing – not courage, not honesty, not morality.
In courses for journalists working in war zones, we've been taught to help the wounded. During a week of classes, five days were devoted to this. Whether I apply this knowledge, and whether I have enough courage to say "STOP" to a frenzied mob, I don't know. I'd like to think so, but no one knows how they'll behave in the actual situation.
My colleague, photographer Sergei Maximishin, loves to say that "the war begins when CNN comes and ends when it leaves." Unfortunately, this is the case. Events depicted in many iconic photographs would not have occurred without the photojournalists, since their presence was the catalyst. I'd like to believe that the opposite is true as well, and that the presence of a camera stopped someone from committing a crime, but I think that's rare.
Collective solidarity
I don't remember a single case when the journalistic community in Russia has united to defend someone. Such a community simply does not exist, and will not for a long time. It can't develop if it's considered normal when one journalist knocks another and state TV channels allow themselves to run a story about a great journalist with the headline "journalist with dual citizenship turns out to be an informant for Right Sector (a Ukrainian nationalist organization)."
Therefore, there are now groups of journalists, educated in their own principles of morality and ethics, who support their own. And this isn't bad. Sometimes it's more important to get support from a group of respected colleagues close to you, rather than just anyone. Unfortunately, it sometimes happens that another group does everything it can to hurt you.
This was the case for me after my arrest in the Barents Sea [Sinyakov was arrested in September 2013 with a group of Greenpeace activists who stormed the Prirazlomnaya oil rig and was jailed for almost two months]. The same thing is happening now with Andrei.
It's difficult for me to say what makes a journalist a journalist, including in a war. It's definitely not accreditation or an editorial assignment, although legally this might be necessary. Rather, it's the authority that comes from a journalist's work and his own personal development.
I don't know what questions Andrei asked himself, setting off for another war, or what he said about his work, given that I'm not familiar with his photographs, but it's an indisputable fact that he's a journalist. That's why I appeal to the Ukrainian authorities to investigate his disappearance and, if he's been arrested, facilitate his release.
Denis Sinyakov is a freelance photographer. He has worked for Reuters, Lenta.ru, and Greenpeace. His work has been published in Russian and foreign media.
All rights reserved by Rossiyskaya Gazeta.