Get to know the real America on the screen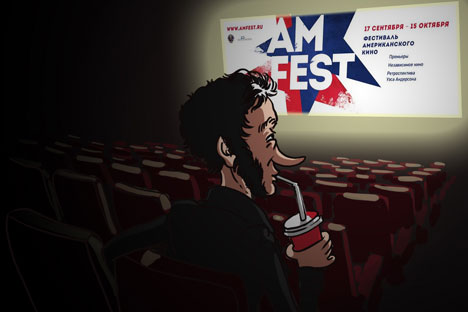 The American Independent Film Festival (AmFest) in Moscow shows an America that Russians know very little about.
Drawing by Konstantin Maler. Click to enlarge
No matter how much Alexander Sergeevich Pushkin (whom Russians unequivocally deem "the sun of Russian poetry") may have swaggered, and regardless of how deeply he loved the fall, even the great poet was unlikely to have escaped the autumn blues. Indeed, his glorification of the fall was an attempt to love the unlovable.
Fall inevitably follows summer. After such pleasant relaxation, warmth, and light, unburdensome clothing, it is difficult to grapple with the thought that we have to wait another whole year for it. A short trip to warmer climes is off the table; not everyone can afford it. And either way, that trip would not replace three months of summer.
So how to deal with the autumn blues? Everyone has their own cure. Some people drink, some eat, some work, and some don't work. Some pretend they don't have the autumn blues, but then the gray, dreary days force them to think otherwise.
I have my own cure. My favorite film festival happens in the fall: the American Independent Film Festival, or AmFest. Knowing that I'm soon going to see something special, sometimes I even dream of the summer ending faster. I always associate autumn not with the end-of-summer blues, but with a unique atmosphere which is best fit in dreary, somewhat sad (but in a good way) independent American cinematography.
The festival opened in both Moscow and St. Petersburg on Sept. 17, and it will take place in Voronezh and Yekaterinburg from Oct. 9-15. Not everything that plays at AmFest is good, but that's what makes it special.
No one can dispute that many independent films are not very good, and are often even horrible. As the creator of South Park once described them, independent films are black and white movies about sexual minorities. Oddly enough, sometimes that's true. But still, a substantial portion of that type of film is good. What ends up at AmFest has already gone through several powerful filters.
Of course, the films shown at AmFest are interesting, but for me personally, the festival itself is important. When you go to see ninja turtles, you don't get a sense of the unique atmosphere that AmFest creates. But of course, you still need to go see ninja turtles.
But whereas some blockbusters attempt to become an event, AmFest in itself is an event that embodies something you can't see elsewhere in Russia. That's probably why I often meet many people I know, particularly students who want to get better acquainted not so much with serious films as with rare films within the walls of a movie theater.
AmFest is a rare occurrence in our cultural life. It shows us an America that Russians know very little about. The problem is that those who attend this event are those who are already familiar with this America and want to spend even more time exploring it.
Independent American film is a snapshot of the lives of everyday Americans – of how difficult it is to live in the depths of alcoholism or how to cope with the problems of aging. These problems are not explored very often in mainstream movies.
These are not "popcorn movies." They are not the kind of American series that have won the hearts of ordinary people and in fact do not even effectively represent the U.S. in all its diversity. With the exception of major premieres – say, Woody Allen's "Magic in the Moonlight" – each film in and of itself would unlikely be able to be as big a hit as, say, "The Amazing Spiderman." But together, these uneventful films create an event of Russian cultural life. Russian viewers once again have the chance to get to know an America that was unfamiliar to them before.
Alexander Pavlov is a professor in the faculty of philosophy at the Higher School of Economics in Moscow.
First published in Russian in Izvestia.
All rights reserved by Rossiyskaya Gazeta.