Future complicated for Russian biotech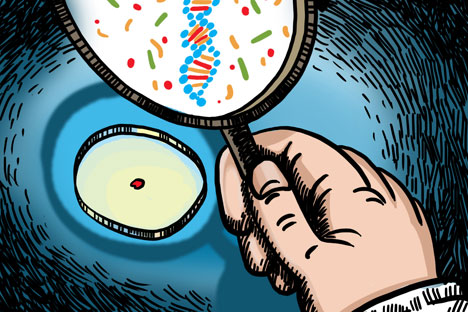 Despite technological advances, Russia has been unable to build a biotech industry because of its inability to scale up production of biotech and pharmaceutical products.
Drawing by Konstantin Maler. Click to enlarge
Together with IT and nanotechnology, biotech is one of the most important and fastest-growing elements of the world economy. The world biotech market is estimated to reach $2 trillion by 2025. By developing biotech today, countries are laying the foundation for their own long-term economic growth. But whereas Russian scientists have made famous and widely recognized accomplishments in IT and nanotech, biotech has only recently become a focus of attention for the Russian authorities.
In April 2012, the government approved a comprehensive biotech development strategy for the period until 2020 called BIO2020, which consolidates the resources of a plethora of government structures to tackle the challenge of speeding up Russian biotech development. The government strives to make the bioeconomy in Russia worth 1 percent of GDP in 2020 and at least 3 percent by 2030.
In November 2012, the Russian government created a working group on biotech development chaired by Deputy Prime Minister Arkady Dvorkovich. However, Russia cannot develop the bioeconomy without the active participation of large industrial corporations,and very little has been done in Russia in this field. The leading public and private corporations have yet to become notable players in the biotech segment of the market; therefore, the government is dominating it.
As part of the state program Pharma 2020, in 2013 the Russian Industry and Trade Ministry established a scientific and technical council to identify biotech development priorities in Russia and to allocate grants to support breakthrough research. Today Russia manufactures biotech products in small batches. The country lacks a system for scaling up scientific biotech developments for the purpose of industrial output, as well as other elements of the bioeconomy needed to translate scientific discoveries into commercial products.
Russia is planning to construct some 10 factories to produce biotech biogenerics by 2020, with total investment estimated at about 10 billion rubles. However, in its current state, Russian biotech is falling behind in terms of production volumes and speed in comparison with the global leaders.
Nevertheless, Russian scientists have made a significant contribution to global biotech development. Russia has developed monoclonal antibodies, vaccines against several dangerous infections, long-acting drugs, and genetically engineered strains that produce amino acids and vitamins. Russian scientists' work on an Ebola vaccine has successfully undergone preclinical trials and is ready for use. Additionally, over the past two decades, Russia has formed several recognized schools to develop HIV vaccines. The DNA-4 vaccine is undergoing the second phase of clinical testing
The key problems standing in the way of Russian biotech development are the lag in the country's research and tech production base, low demand for biotech developments, high barriers to entry for biotech products on the world market, insufficient investment, and the risk that Russia will turn into a source of raw materials for world biotech leaders. And these problems existed before the economic sanctions imposed against Russia by the United States and its allies in the spring of 2014 in connection with the Ukraine crisis. The long-term consequences of the sanctions will undoubtedly be negative. Cross-border ties between scientists and research centers are being severed, and cooperation in joint research is becoming less effective. As a result, Russia will be forced to pursue a "national model" for the biotech economy. In light of how quickly biotech is developing and how intense competition is for entering the market for innovative products, this strategy serves as collateral against inevitable losses in the future.
But isolation isn't the answer. Russia needs to remain an open economy and a part of the global liberalized trade system. Scientific contact needs to be developed with international partners, and intellectual property rights need to be protected. The government needs to support both basic and applied research. Big business needs to become a key player in bringing biotech achievements to market. If these challenges are met, Russia will be able to occupy a distinguished position in the modern global economy, in which biotech will be a key element.
Stanislav Tkachenko is a professor at the School of International Relations at St. Petersburg State University.
All rights reserved by Rossiyskaya Gazeta.