Russia and the West must defrost relations before it is too late - Mikhail Gorbachev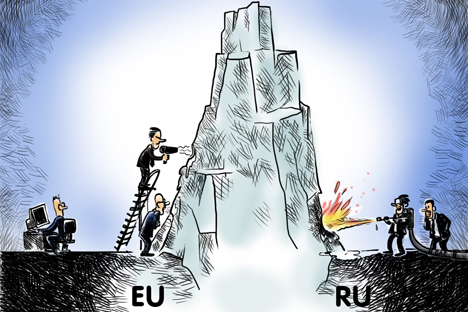 Drawing by Konstantin Maler
Former Soviet leader Mikhail Gorbachev writes that tensions between Russia and the West have become so strained that the establishment of immediate dialogue is now essential in order to avoid potential catastrophe.
The situation in Europe and in the world is extremely alarming. The Ukrainian crisis is continuing. Efforts aimed at its resolution are incommensurate with the danger that threatens us all.
In the last few days there have been statements suggesting that there are now chances of ending the impasse. But shooting continues, and people are still dying.
The result of the events that took place in the last months is a catastrophic loss of trust in international relations. Judging by some recent statements, diplomats from both sides are preparing for a long-term confrontation. This is extremely dangerous. With passions running as high as they are, we may not even survive that long term: someone's nerves may fail. We must do everything to reverse the current situation. But how can it be done?
People have been turning to me and other veterans of world politics, who in their time did much to end the Cold War, with the request to create a sort of Council of Elders that would develop proposals for ending the crisis. I believe that it is worth doing - veterans have useful experience. But I already have some thoughts that I would like to share.
First of all, we have to recognize the urgent need to immediately, unconditionally implement a ceasefire and prevent a humanitarian catastrophe. I believe that both sides of the Ukrainian conflict have been violating the terms of the ceasefire; both sides are guilty of using dangerous types of weapons and violating human rights. "War until victory" is impossible. It is time to stop!
The Minsk agreements form the basis for the settlement of the crisis. No other basis exists. Russia, according to President Vladimir Putin, has the capacity to influence Donetsk and Lugansk, while the international community can influence Ukraine, which, by the way, has admitted that there is no military solution to the problem. All levers must be used; serious pressure must be brought to bear on the parties to the conflict.
The intensity of polemics and reciprocal accusations must be reduced, and the propagandistic pandemonium must be quelled. It is useless, and only pushes the problem further into a dead end. Urgent measures to prevent a humanitarian catastrophe must be agreed upon and an international consortium must be created to give aid to those who have suffered in the crisis and to restore the damaged regions.
Secondly, there is the strategic objective: to restore trust. This must be done simultaneously with the transformation of the Ukrainian conflict from the military to the political phase. The restoration of trust should not be achieved through declarations but through concrete actions. First of all, by finishing the construction of European security. At the end of 1990, in Paris, the Europeans approved the Charter for a New Europe. Then it was forgotten and, as a result, European politics were not demilitarized. Concrete measures to create institutions and mechanisms of European security were not taken.
But the United Nations Charter says that disputes and conflicts should be considered and resolved on a regional level, before being taken to the level of the UN Security Council. That is why mechanisms and consultation instruments regarding security, preventive diplomacy, intermediation and resolution should be created on a regional level. When the necessity arises, regional structures that are closer to the "theatres" of possible conflict can be used more efficiently and flexibly than UN mechanisms, which represent a global organization.
Not only should we return to the idea advanced in the beginning of the 1990s of a Security Council, or Directorate, for Europe; we should think of how to equip it with effective mechanisms. They could work in the "constant alert" mode: studying and monitoring existing, "frozen" and potential (emerging) conflicts, developing proposals for preventive efforts and measures to resolve conflicts and so on.
Such mechanisms could also prepare and train observers, intermediaries and representatives of the international community in areas of tension and conflict. The creation of these structures would improve conditions for managing existing conflicts and would stimulate a more active search for solutions.
We should also return to cooperation in addressing global challenges and threats. Currently, the West is practically winding down cooperation with Russia in these areas. And this is on top of the sanctions. But who will benefit from the refusal to cooperate in the fight against terrorism, climate change, epidemics? Relations must immediately be defrosted in these fields.
I propose that Russian and American leaders hold a summit with a broad agenda, without preconditions. They should examine the whole spectrum of relations and problems. These two countries bear special responsibility. When they walk away from their responsibilities, the consequences for the world are severe.
Such a summit should also be held between Russia and the EU. We shouldn't be afraid that someone would "lose face," or that someone would obtain a propaganda victory. This should all belong to the past. We must think of the future.
First published in Russian at Rossiyskaya Gazeta.
All rights reserved by Rossiyskaya Gazeta.