Cameron's attitude to Russia exposes divisions in relations as rouble collapses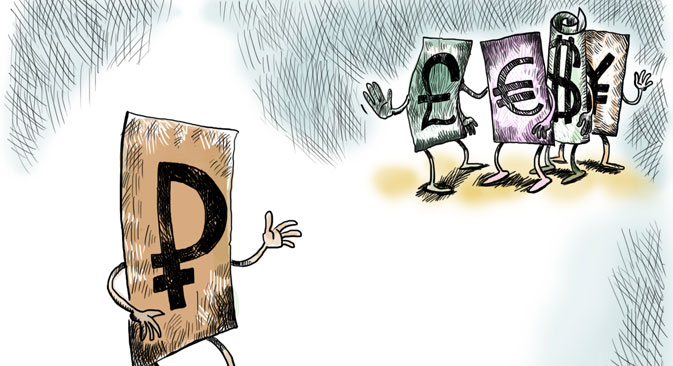 British Prime Minister David Cameron's extraordinary parliamentary attack on Russia's role in international finance exposes deep and old fault lines in relations with Russia, Bryan MacDonald says.
Last year, the IMF, the World Bank and other financial ratings systems ranked the Russian economy as the world's 6th largest when adjusted for purchasing power parity, which counts the relative costs of goods and services consumed in a country. Russia was behind Germany and ahead of Brazil. The UK came in 9th or 10th in most ratings, just ahead of Mexico. Using this method of counting, which many economists argue is more useful than absolute figures based on exchange rates, Russia accounts for around 3.5pc of global GDP and Britain, 2.5pc.
Mr Cameron's claim that Russia has no place in the world of international finance was draw-dropping stuff and deserves closer analysis.
Small island
The British PM was playing to a domestic audience, making his remarks during a speech in the House of Commons.
"What the combination of the lower oil price and the sanctions is showing is that it is not possible for Russia to be part of the international financial system but try to opt out of the rules-based international legal system," Mr Cameron said, according to Parliamentary record, Hansard.
His remarks, delivered on the day the rouble collapsed against the dollar, came as the PM vowed to continue to put pressure on Russian president Vladimir Putin, saying: "We should stand up very firmly against the Russian aggression that has taken place."
The Kremlin is no stranger to making digs at the British either. Last year Mr Putin's official spokesman, Dmitry Peskov, reportedly remarked during the G20 summit in St Petersburg that Britain was "just a small island - no one pays any attention to them," though the Kremlin mouthpiece denied it.
British pride
Mr Cameron countered with an impassioned defence of British influence: "Britain may be a small island, but I would challenge anyone to find a country with a prouder history, a bigger heart or greater resilience."
The PM is proud to be British, a product of the establishment and a believer in Britain's intrinsic decency. He doesn't perceive the UK as a declining power, but as a nation with its greatest days yet to come. Russia's casual dismissal of the UK's importance surely stings. Moscow views the world in terms of power-blocs and firmly believes that Europe is managed by Germany, with France the Sundance Kid to Berlin's Butch Cassidy.
Domestically, the British are grappling with their diminished global role. One of the central arguments for remaining in the EU is the prospect of wielding even less influence outside of it.
Moscow's remarks often seem to reflect a view that casts London as a US lap dog. Mr Putin may have come to this view around the time of the Iraq War when he stood with Germany's Gerhard Schroeder and France's Jacques Chirac in fervent opposition to the plan. The then British PM, Tony Blair, responded by becoming even closer to US President George Bush.
Mr Cameron asserts that he's fighting for 'democratic values' by standing up to Moscow. I believe the truth is more insipid: the Kremlin has ruffled the feathers of the British elite by dismissing them.
Troubled relations
There are other factors at play in the worsening bilateral relations. The Litvinenko case, the 2006 death by polonium-210 poisoning of former KGB agent Alexander Litvinenko in London that the British traced back to Moscow, and the issue of Russian political refugees settling in London among them.
Trade between the two countries has fallen this year, as international sanctions over the annexation of Crimea and Russian counter moves begin to bite. British exposure to the Russian economy is tiny compared to Germany. However, Russia still counts as the 11th largest importer of UK goods, with British exports to Russia growing at a faster rate than any other major country; they were worth £10.5 billion in 2013. At one point, Russian companies were responsible for roughly 13pc of all IPO's on the London Stock Market, though many now prefer Hong Kong for public share launches.
Since the Ukraine crisis escalated, following Russia's annexation of Crimea, things have gotten worse. Foreign Secretary William Hague has been strongly urging Europe to break its dependence on Russian energy and Mr Cameron is calling for further economic sanctions and more 'pressure' on the Kremlin.
Russian diplomats in the UK are banking on a Labour victory in next year's Westminster elections, hoping that relations can be rebooted. A dream scenario would be UKIP holding the balance of power; the party's leader Nigel Farage has made no secret of his admiration for Mr Putin. And what if Mr Cameron's Tories are returned? Relations will continue to worsen, unless that is, Moscow shows Britain more deference, Mr Cameron eases up on the rhetoric or both sides find a mutual cause to unite them.
Bryan MacDonald is an Irish journalist who focuses on Russia and international geopolitics.
The opinion of the writer may not necessarily reflect the position of RBTH.
All rights reserved by Rossiyskaya Gazeta.