Why a strong ASEAN is in Russia's interests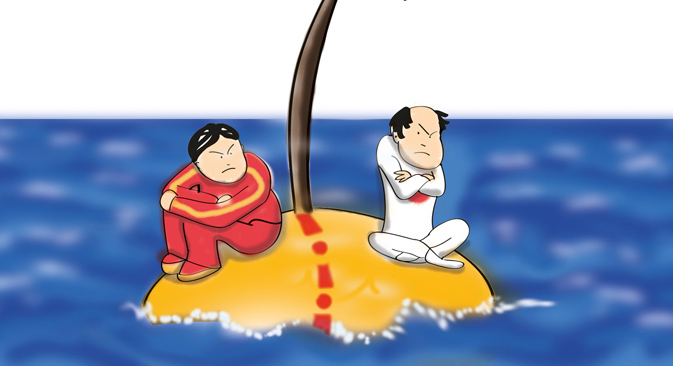 With the recent confrontation over Ukraine and the attendant sanctions giving it little room for economic manoeuver with the West, Moscow is pivoting to the east and pursuing a policy of expanding commercial ties with Asia. However, with territorial disputes in the region threatening economic cooperation, Russia is looking for greater unity and purpose from the Association of Southeast Asian Nations (ASEAN).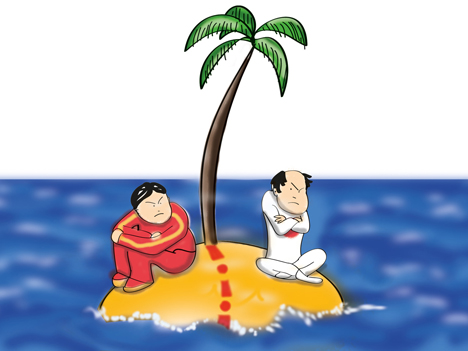 Drawing by Niyaz Karim. Click to enlarge
Though many complain about the vagueness of the Asian policy currently being formed by Russia, it is quite clear that the Association of Southeast Asian Nations (ASEAN) will be among its priorities. To be more specific, Moscow will most likely vest its interest in a strong and independent ASEAN, a grouping whose integrity is currently threatened by competing maritime claims in the South China Sea.
There are only two things Russia can want from East Asia – peace and development.
With prospects of economic cooperation with the West growing ever murkier and a recession probably hitting the country very soon, hedging foreign trade and investment in Asia looks like a logical step. Moreover, Russia will have to tap into the Asian growth powerhouse if it wants the main state-building effort of the century to be successful – a leap in development for Siberia and the Far East is hardly achievable without a firm connection to the Asian markets.
And here's where the kicker is. None of this will happen if East Asia slips into a full-on regional war. Leaving aside other hotspots like the Senkaku Islands or the Korean Peninsula, a deterioration of the South China Sea issue alone could have immense repercussions for Russia.
Firstly, even a minor clash in this maritime region may cause severe disruption to sea trade routes. More than half of the world's oil exports travel through the South China Sea, supplying China, South Korea and Taiwan with the necessary resources for their vast production volumes. If global supply chains happen to break at this point, the European economies, as well as Russia's, could receive a crushing blow – a risk not worth taking.
Secondly, Russia's own economic projects may be harmed (and are in fact already being harmed) by international disputes in the South China Sea. As Russian companies attempt to enter the Southeast Asian energy markets, an important part of it – offshore oil and gas extraction – is at risk because of legal disputes between the region's states.
Russian gas giant Gazprom has already had an incident with an exploration block claimed by both Vietnam and China. There have been other similar cases with Indian companies, which means this is a systemic issue that will loom over any joint offshore drilling project.
Finally and probably most importantly, the six-state dispute over various areas and features of the South China Sea puts the integrity of the ASEAN at risk. And a rift in the central multilateral diplomacy institution of the region may have grave consequences for regional security even without a major armed conflict.
Let's be honest – there is no such thing as ASEAN solidarity over the territorial disputes issue. Essentially, the grouping is divided into claimants and non-claimants. The non-claimants –Thailand, Myanmar, Cambodia, Laos, Indonesia and Singapore – are not exactly eager to join the rest in their confrontation with China. None of them wishes to annoy Beijing when a great deal of their external trade and investment depends on Beijing's good spirits.
Without being able to consolidate, ASEAN will essentially remain merely a forum for discussion, but not an alternative to the great power politics that will most likely unfold in the region in the years to come.
The Southeast Asian states should have an alternative to choosing between allegiance to China or the U.S. by placing their faith in the likes of a more post-modern institution like ASEAN. And that is exactly what Russia needs. When the time comes for Russian businesses to enter Southeast Asia on a full scale, Moscow should not have to be concerned with whether the 'big guys' approve of such cooperation. If there is a strong ASEAN, the lesser and middle powers of East Asia will enjoy greater autonomy from Beijing and Washington.

Anton Tsvetov is media and government relations manager at Russian International Affairs Council, a Moscow-based foreign policy think tank.
All rights reserved by Rossiyskaya Gazeta.