The top five western media commentators on Russia to follow on Twitter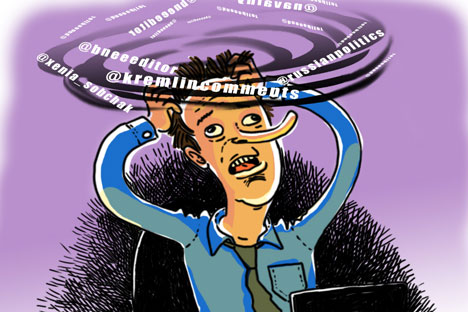 Russia attracts belligerent and polarized opinion like Elizabeth Taylor hauled in husbands. Given the amount of hysterical anti-Kremlin coverage on certain media platforms in recent years, balance is often as hard to find as hen's teeth.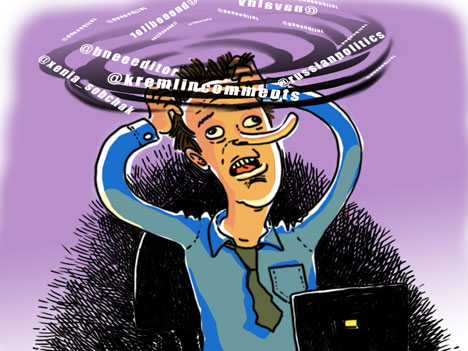 Click to enlarge the image. Drawing by Konstantin Maler
Two distinct camps, divided by a line that is almost sectarian, means that even those who try to perch on the fence are eventually tarred with the brush of being 'pro-Putin' or a 'regime apologist.' It's sadly reached the stage where unless a commentator or journalist can unequivocally prove their Russophobic credentials, a cloud of suspicion tends to follow them around in certain sections of the American and EU press.
Another problem is the lack of quality in current Russia-focused journalism. A posting to Moscow was once a crowning moment in a foreign correspondent's career, attracting only the very best. Russia's diminished global role from the 1990's gradually brought that to an end and modern economic realities have seen bureaux stripped to the bone.
True giants
True giants of western journalism once strode the streets of Moscow. Sadly, most of the current crop isn't fit to make tea for their predecessors. Indeed, many had hardly any journalistic experience before assuming their positions. Of course there's still talent working on the Russia beat, but it's much harder to find.
All this makes compiling a relatively neutral list of the top English-language media Russia experts to follow on Twitter about as easy as navigating a minefield. Nevertheless, these are those I feel are the best. I've favoured press over academics because I believe nothing beats practical experience 'in the field.' [RBTH: It should be noted that not all Moscow-based correspondents writing in English are regular or frequent users of Twitter, if at all.]
Russian Market (@russianmarket) - This mysterious Switzerland based blogger has over 136,000 followers. His (for it's definitely a he) irreverent mixture of financial news and advice, combined with plenty of western hack baiting has proved a winning formula. Russian Market tends to mix folksy Russian sayings with serious commentary. He's always willing to defend the motherland on Twitter, without being blinkered.
Old school
Ben Aris (@bneeditor) - Aris is old school. In an era where Moscow correspondents come and go as frequently as the ruble wobbles, Ben's continued presence is almost reassuring. The Business New Europe editor has been largely based in Russia since 1993 and has forgotten more about the country than most analysts will ever know. Aris' Twitter style is conservative and non-combative but his wisdom is essential for all Kremlin watchers. When others get carried away by the latest scandal or government utterance, you can tell that Ben's heard it all before many times over. He also occasionally tweets on central Asia and Ukraine.
Alec Luhn (@asluhn) - Not all of Moscow's current 'hack pack' have surrendered to the 'hive' mentality. Nor are all of them out of their depth. Quietly, but with steely assurance, this American writer has carved a reputation for being a sane voice who genuinely tries to stick to the facts in his reportage. When many of his colleagues were baying for blood during the darkest days of last year's Ukraine crisis, this Guardian reporter simply wrote what he saw and that detachment has stood him in good stead. Alec tweets a mix of news and analysis, sometimes self-penned and often the work of others. A rising star.
Mark Adomanis (@markadomanis) - One of the real challenges in journalism or academia has always been to carve a niche. In an era of 24-hour information overload, that's an even tougher ask. Somehow, this Philadelphia-based analyst has managed it. Writing for Forbes and the Moscow Times, Adomanis specialises in debunking lazy Russia narratives using facts as weapon. A great man for graphs and forensic detail, Mark nails lies on a daily basis. Extremely unpopular with those whose maleficence he exposes and counteracts - especially characters involved in the think-tank racket - Adomanis is proof that a staunch commitment to accuracy can take you a long way. Expect a mixture of statistics and a little bit of dry humor on his Twitter feed.
The Exile
Mark Ames (@markamesexiled) - Mark and his fellow travelers at The Exile are legendary on the Moscow expat scene. While his magazine had a reputation for irreverence and pushing the boundaries of taste, the endless controversy belied the fact that Ames always was a supremely gifted journalist. Now based in the U.S. where he writes for Pando Daily, he continues to keep a close eye on his former home. Ames doesn't tweet exclusively on Russia but when he does it's with authority and disdain for what passes as reporting. Follow Mark and you'll quickly hope he eventually ends his reverse exile and returns full-time to Moscow.
The five top picks were chosen for their balance and their expertise. However, there are many others worth watching. They include Sean Guillory (@seansrussiablog), Dubai-based Yuri Barmin (@yurybarmin) and The Moscow Times' Ivan Nechepurenko (@inechepurenko). Also worth following are the BBC's Will Vernon (@bbcwillvernon), the knowledgeable Anatoly Karlin (@akarlin88) and Open Democracy's young tyro Daniel Kennedy (@danielabkennedy). For a mixture of balance and experience, the Carnegie Foundation's Dmitri Trenin (@dmitritrenin) is hard to beat.
Bryan MacDonald is an Irish journalist who focusses on Russia and international geopolitics.
All rights reserved by Rossiyskaya Gazeta.