Japan in WWII: Will Tokyo's apologies ever suffice?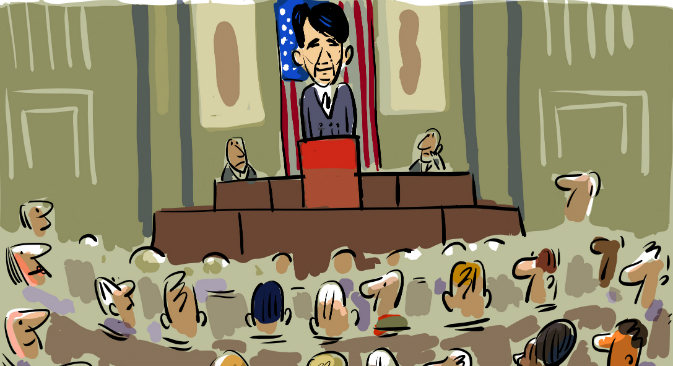 Ever since the end of World War II, the issues of repentance and forgiveness remain a source of diplomatic tensions between Japan, China and South Korea, hindering their efforts to establish a trilateral free trade zone.
Drawing by Alexei Iorsh. Click to enlarge
Japanese Prime Minister Shinzo Abe's address to a joint session of the US Congress, made on the eve of the 70thth anniversary of Victory in Europe Day, has yet again stirred a storm of emotions related to the role of Japan in the Second World War.
Trying to finally put an end to the controversy surrounding the issue, Abe voiced "deep repentance" for his country's actions during the War. "Our actions brought suffering to the peoples in Asian countries," he said. "We must not avert our eyes from that. I will uphold the views expressed by the previous prime ministers in this regard."
Indeed, back in 1995, the then prime-minister of Japan Tomiichi Murayama released his famous statement titled "On the occasion of the 50th anniversary of the war's end," where he apologized for the country's colonial rule and aggression towards its Asian neighbors. Similar sentiments were reiterated ten years later by Junichiro Koizumi. But the real question here is whether this apology was accepted, and if it wasn't, then why not?
It must be noted the word 'remorse' used by Abe can be perceived as both 'regret' and 'repentance' – two concepts that are not quite as similar in the Japanese political culture as it may seem.
In stark contrast to European countries, which managed to achieve post-war reconciliation and harmony based on a universal and unambiguous interpretation of historical events and the willingness of Germany to take responsibility for its Nazi past, the nations of East Asia are still waiting for Japan to fully accept accountability for the tragic events of the past. Back in 1951, as the Allies prepared the Treaty of San Francisco which was to officially end World War II, US Secretary of State John Foster Dulles who saw Japan as a future ally, resisted any attempts to add a separate article on the responsibility for war crimes to the draft.
Dulles, who had previously taken part in the Paris Peace conference of 1919 and saw the violent disputes over the Treaty of Versailles, was convinced an article on the responsibility of Japan for aggression and war crimes could not serve any useful purpose. British negotiators tried to convince their American colleagues to include the corresponding clauses in the draft, but to no avail.
Thus, the assessment of Japan's role in World War II became a stumbling block in global and regional politics. As decades passed, the geopolitical reality changed - Japan and Germany became developed democracies and they could not be considered 'defeated powers' or 'enemy states' anymore. Besides, this definition, officially attributed to them in the UN Charter, prevented them from participating in UN governing bodies. This was finally rectified during the 60th session of UN General Assembly in 2005 - by unanimous decision, the 'enemy state' clauses were removed from the Charter completely.
Technically, Japan can now argue for a permanent United Nation Security Council (UNSC) seat, which is something Tokyo has been persistently trying to obtain for many years. But will Japan be able to do that without first achieving reconciliation and harmony with its neighbors as well as key members of UNSC - like China?
The Chinese government regularly voices criticism of Tokyo's policies, making use of both the historical memory of the peoples of Asia who do not see Japan in a positive light, and the occasions Japanese politicians themselves provide (like history textbooks distorting or omitting certain events and facts and senior officials visiting a temple honoring war criminals).
Ever since the end of World War II, the issues of repentance and forgiveness remain a source of diplomatic tensions between Japan, China and South Korea, hindering their efforts to establish a trilateral free trade zone. If this ambitious project does get implemented, the global economy will be fundamentally changed, as the countries of Northeast Asia will be able to accumulate 55 percent of world trade.
But to achieve this, the three nations need to start developing their relations from scratch. It is highly unlikely China will ever forget the Nanking Massacre and its 400,000 victims, and Korea still remembers 'comfort women' and other crimes of Japanese military.
Nevertheless, life itself demands the countries and peoples of East Asia learn to forgive each other and to apologize, so that they could move forward together. After all, one cannot apologize and demand apologies indefinitely.
But in the meanwhile, the bargaining over repentance and forgiveness goes on. Shinzo Abe will once again tackle the issue in his statement prepared the 70th anniversary of the end of World War II in August 2015.
The author is a doctor of political sciences, member of the Academy of Military Sciences of Russia and chief researcher at the Institute for Far Eastern Studies of the Russian Academy of Sciences.
All rights reserved by Rossiyskaya Gazeta.