Obama's legacy and Russia: What the future holds for Moscow and the U.S.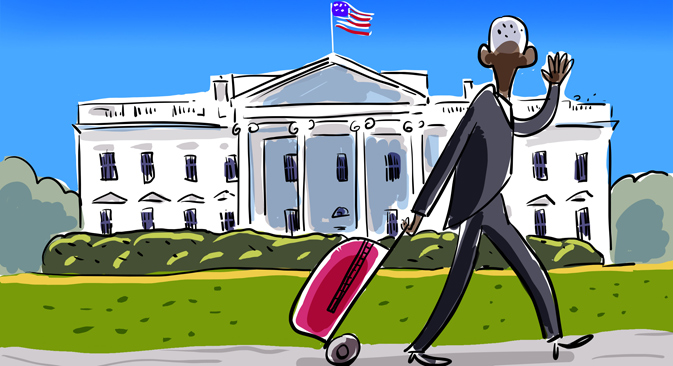 Observers are talking about a possible revival of U.S.-Russian relations following the recent visits to Russia by both U.S. Secretary of State John Kerry and Assistant Secretary Victoria Nuland. But can this really be seen as a turning point? Political analyst Fyodor Lukyanov asks whether a genuine thaw in relations between Moscow and Washington is likely and why the approaching departure of U.S. President Barack Obama matters.
Drawing by Alexei Iorsh. Click to enlarge
In the wake of U.S. Secretary of State John Kerry's talks with Russian President Vladimir Putin and Foreign Minister Sergei Lavrov in Sochi and Assistant Secretary Victoria Nuland's recent trip to Moscow, observers have once again started talking about U.S.-Russian relations, which they had previously all but given up on. But does this really represent a turning point in the strained relationship between Moscow and Washington?
First and foremost, we have to remember something that was almost forgotten: Communication between nations is not necessarily about negotiating deals. During the Cold War, the U.S. and the USSR made an effort to maintain contact - but the purpose was not primarily to conclude agreements or resolve specific issues. There was another, much more vital concern - both parties needed to understand the logic and, if possible, the intentions of the other.
Post-Soviet policy failures
From the start of the 1990s onward, the two countries began to lose these tools and skills, as it seemed then there was no need for them anymore. The danger of war was no longer perceived as real, and negotiations were henceforth supposed to deliver tangible results. Nevertheless, the political changes of 2014 and 2015 have proven that the hopes for a final and irreversible end to all confrontation were delusional. The habits and customs of the Cold War era are back, but this time there are no instruments for keeping these in check.
The U.S. policy on Russia since Crimea's absorption into the Russian Federation can be summed up thus: We minimize all communication until the Kremlin changes its behaviour.
This policy has not produced any results. The United States' expectations that Russia would change its stance on Ukraine were left unfulfilled. On the other hand, it became clear that Moscow cannot count on sufficient stability returning to Ukraine against the will of and without the participation of the United States. Finally, general tensions began to rise, manifesting themselves in all sorts of unpleasant incidents with Russian and NATO warships and planes.
That said, a full-scale Cold War is out of the question: There are still "common challenges" and they are here to stay. For instance, Russia and the U.S. may have different views on the origins of the events that are unfolding in the Middle East, but they still agree that ISIS is a menace both for Russians and Americans.
Obama's legacy
U.S. President Barack Obama is entering the final stage of his term, which is the time when presidents tend to mostly think about their legacy. Obama became president in a difficult period in which the deconstruction of the world order was accelerating, so it was difficult to achieve international success. Of course, he has not managed to avoid making some mistakes. In this context, it is all the more important for him to focus on those areas in which history can be made. For Obama, this is mostly Iran, and probably Cuba. The completion of the Iranian saga will necessitate hard work on all fronts – the consensus about to be achieved will be fragile, so maximum cooperation is needed from all sides – including Russia.
More broadly, President Obama will undoubtedly not want to leave the Middle East in its current chaotic state – and for that he will also need cooperation, or at least non-interference, from Russia. Ukraine, on the contrary, does not bode well for his legacy, and Obama understands there will be no rapid advances there.
This is why the new stage of U.S.-Russia relations (up until 2017) will probably look like this: The parties will establish communication between officials charged with political and military security, to minimize the risk of accidental collisions; they will also exchange views on the situation in the Middle East and elaborate possible common steps. There will be no consensus, but there will also be no explicit confrontation. In Iran, the countries may even work together, and they will not take any drastic measures in Syria. The competing stances on Ukraine will remain the same, but it's highly likely the parties will try to avoid escalation.
The modus vivendi described here does not imply that the rhetoric will become less harsh; rather, the actual reduction of tensions will probably have to be compensated by even more bellicose statements. But overall, this situation may continue until the end of Obama's presidency. Later on, the situation will depend on a great deal of factors, not least of all on the relations of both countries with China.
First published in Russian in Rossiyskaya Gazeta.
All rights reserved by Rossiyskaya Gazeta.