Bilateral ties in a changing geopolitical situation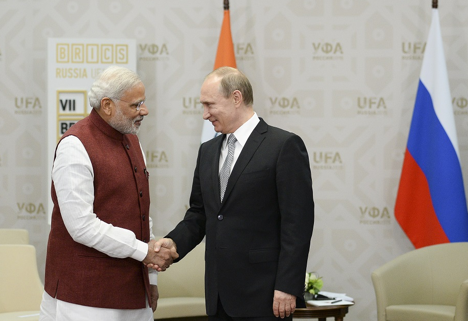 Vladimir Putin and Narendra Modi in Ufa.
BRICS2015.ru
There is a change in strategy inside the Indian Foreign Ministry regarding Russia. India was earlier apprehensive about Russia's relations with either China or Pakistan. But now India considers Russia's relations with either China or Pakistan as Russia's commercial and strategic interest, which Russia has to pursue in the changing geo political situation, while ensuring that these do not undermine India's security interests.
In the rapidly changing global geopolitical situation, both India and Russia are trying to enliven the decades- old friendship and cooperation.
Russian President Putin's visit to India last year can be termed as a defining moment as during this visit both India and Russia clearly outlined the Common Vision for Strengthening the Indian-Russian Partnership over the next decades. In fact, this visit gave a new direction and dimension to the India-Russia relations. Now it can be said that India-Russia relations is on a different path.
Russia always lays emphasis on the trustworthiness of the India-Russia relations.
"In these times, India has various options but we have helped India in times of crisis. We helped India build nuclear power plants when the US had put sanctions. We are all-weather friends. Russia is more trustworthy for India than any other country," said Alexander Kadakin, Russian ambassador to India. India does consider the trustworthiness factor in its relations with Russia.
According to the Indian Defence Ministry sources, India considers Russia as a very important defence partner, despite the ties India has with many other countries such as USA, France and Britain with whom it can have a defence partnership. Russia remains India's biggest arms trade partner, with more than 70 percent of India's military equipment coming from Russia and it will remain a very important trading partner in the coming decades also, Defence Ministry sources confirmed.
"Now Russia understands what India wants, because India has clearly informed them that they have to change their mindset and be more proactive and swift in materializing the deals as India has various options now," highly placed sources said.
India-Russia defence ties will grow in the coming decades. Russia has agreed to India's proposal of Joint Co-Production under the 'Make in India' initiative. According to the latest statement given by the Indian Defence Minister in Parliament, Russia and India could soon cooperate in defence projects to produce helicopters, ships, tanks and aircrafts.
In the field of Civil Nuclear Energy Cooperation, Russia is one of the most important Indian partners. The cooperation between India and Russia will further grow in this sector. Apart from Kudankulam, in Tamil Nadu state, where Russia is building nuclear power plants, Russia will supply around a dozen nuclear power plants to India in future.
Strategically, now Russia is looking at India to bolster its ties with Asian countries as its relations with the West are frozen due to the conflict with Ukraine.
According to the Indian Ministry of External Affairs (MEA) sources, Russian foreign policy is much more pro-active in Asian region. Russia is now showing interest in facilitating India-Pakistan talks. Since Russia wants to have commercial ties with Pakistan in the field of energy and defence, Russia finds it will be easier for them to sell weapons if India-Pakistan have good relations. India had earlier raised questions about growing Russia-Pakistan defence ties.
Holding the presidency of BRICS, Russia's main strategy is to make the group stronger. Russia is interested in forging a closer Russia-India-China relationship by judiciously utilising the BRICS forum. Indian MEA sources accept that Russia can be very useful in bridging the India-China divide.
India's stand on the Ukraine conflict has been in tandem with Russia. India is trying to develop closer business ties with Crimea. Some of the India pharmaceutical and other companies are very interested in doing business in Crimea and Indian government is promoting this despite west and American pressure
For the future road map of India-Russia relations, India has identified some of the key areas in which thrust will be given, which include defence cooperation, bilateral trade, cultural exchanges and cooperation in the field of nuclear energy.
Irrespective of India's relations with the USA, India wants to give a boost to its relations with Russia.
All rights reserved by Rossiyskaya Gazeta.