Resetting the Russia-EU relationship on a win-win basis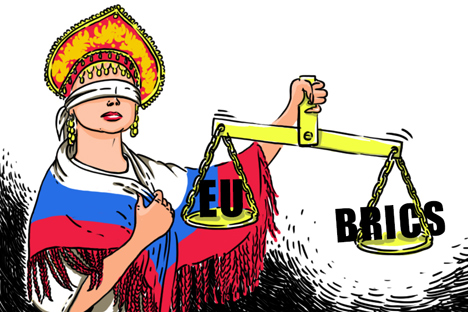 With relations tense between Moscow and the West, Russia's Permanent Representative to the EU, Vladimir Chizhov, explores the question of how Russia and the European Union should go about rebuilding the relationship that has fractured so badly over events in Ukraine.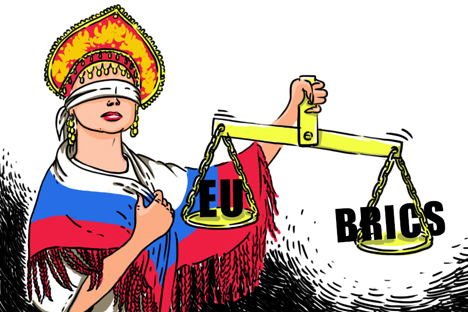 Click here to enlarge the image. Drawing by Konstantin Maler
Today, amidst geopolitical upheaval in our common neighborhood, Russia and the EU find themselves in a situation very much reminiscent of those older times. Once again there is a pressing need to arrive at a mutually acceptable equation, one that would reconcile regional security with modernity and progress.
Are Russia and the EU still able to negotiate and come to agreements in good faith? Absolutely yes. The recent deal on the Iranian nuclear program is clear proof of that.
However, what is at stake today in our relations is, I believe, of far more immense proportions than even the Iran question. It is about the future of the European continent, of which both Russia and the EU are part. The Ukraine crisis has finally confronted us with the decisive question of whether Russia and the EU are genuinely able and willing to construct an indivisible pan-European security and economic architecture that would pursue cooperative "win-win" scenarios, or, instead, whether we are doomed to going about our separate ways.
As for the European Union, since the beginning of the 1990s we have strived to achieve a mutually beneficial and interdependent relationship. In spite of many setbacks, we have come a long way. Prior to the onset of the Ukraine crisis, Russia and the EU used to trade at a level of 1 billion euros a day, the volume of our trade having tripled between 2002 and 2012. Even today Russia remains EU's third-biggest trade partner and No.1 energy supplier.
Geopolitical battleground
Obviously, I am far from trying to idealize the relationship. It was increasingly subject to systemic flaws and limitations, which were remedied, to a certain extent, via our structured channels of communication at various levels. In particular, the internal transformation of the EU following the "big bang" expansion of 2004 and the subsequent Lisbon Treaty reform, resulted in narrowing the flexibility of the EU's positions in the international arena. On many topics of mutual importance, like crisis management, Russia was often confronted with a "take it or leave it" approach that often seemed to negate our concerns and interests.
These worrying trends have converged in Ukraine. May I remind you that back in May 2013 EU high officials were making it clear that the Vilnius summit of the Eastern Partnership later that year would be about "winning Ukraine" in a "geopolitical battle of Europe." This was clearly a wrong approach. Ukraine should have never been viewed as a geopolitical playground. Rather it is an economically fragile and ethnically and culturally diverse country, rife with internal contradictions.
What Ukraine really needs is a common national identity, sufficiently ample to embrace all ethnic and linguistic groups inhabiting the country. But for such an identity to take root, time, stability and good relations with both the EU and Russia are of essence.
Remedying systematic flaws
And now the 1 million-euro question: How to develop our relations into a win-win situation for both parties? For starters, we should not aim at returning to "business as usual." Simply "resetting" the relationship, to use a trendy term, will not remove its underlying systemic flaws.
First of all, the relationship should become a genuine partnership of equals, ensuring that mutual concerns are systematically and thoroughly addressed.
Secondly, economic cooperation between Russia and the EU, into which we have invested a lot of time and effort, remains an important "safety cushion." Not only does it provide jobs and growth across the European continent, it also insulates our countries from political tensions.
Thirdly, the relationship must become less ideological and more pragmatic. The relentless anti-Russian rhetoric in the Western media, which, sadly, is reenacted in some EU institutions, can hardly be qualified as a strategy in relations with Russia. It is merely a feeble substitute.
And last but not least. Russia and the EU need to jointly deal with the manifold crises unfolding in our so-called "common neighborhood." In Russia's view, the disastrous turn of events in the region of the so-called "Arab spring" as well as in Ukraine has a lot to do with the attempt to inject the notion of the supremacy of Western values into highly complex regional environments.
Obviously, being both a European and Eurasian power, Russia will not blindly turn away from the EU. Cumulatively the European Union will for the foreseeable future remain its key trading partner and investor. Nevertheless, the world around us is changing fast. In pondering the future of the Russia-EU relationship and the choices we face together, I believe, we should think pragmatically and realistically, but also strategically.
Vladimir Chizhov is Ambassador Extraordinary and Plenipotentiary, Permanent Representative of the Russian Federation to the EU
The article is based on his address at the Alpbach Forum.
All rights reserved by Rossiyskaya Gazeta.