Sino-Russian bilateral trade still robust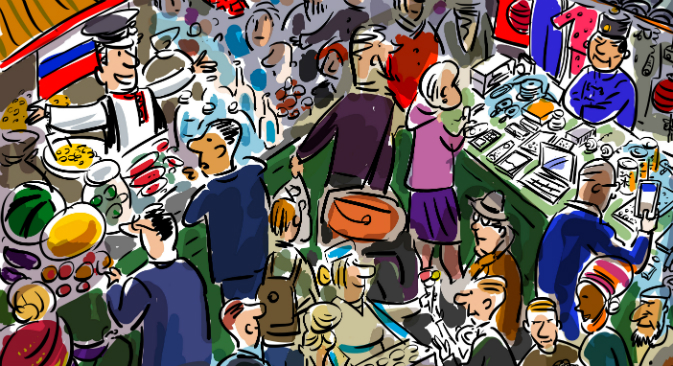 The director of the China Laboratory at the Skolkovo Business School's Center of Asian Studies explains why it would be wrong to read too much into the falling Russia-China bilateral trade figures in dollar terms.
Click to enlarge the image. Drawing by Iorsh
Chinese official statistics revealed that bilateral trade between Russia and China in 2014 was $95 billion, raising hopes that the countries could breach the $200 billion mark this year. However, due to the fall in energy prices and the 50-percent devaluation of the ruble in the first half of 2015, trade volumes decreased by 30 percent.
Although a growing number of experts have started talking about the futility of Russia's turn towards the East, a concrete analysis paints a different picture.
For starters, we should take into consideration the currency factor. At the moment, calculation of bilateral trade figures in dollars presents a distorted picture. Since 2008, Russia and China have been working to establish payments in national currencies. Frontier trade in the Far East has almost completely changed to mutual payments in ruble-yuan and oil and gas contracts between Gazprom, Rosneft and Sinopec are already stipulated in national currencies. The volume of VTB Bank's yuan settlements in the Far East in the first half of 2015 reached 150.38 million yuan, which is almost twice as much as the indicators from the same period in 2014.
Secondly, with a 34 percent overall reduction in Russia's foreign trade, the 30 percent fall with its southern neighbor means that China's relative share in Russia's foreign trade in the first half of 2015 basically grew. In comparison, Russia's trade with the EU declined by 36 percent.
When it comes to Sino-Russian trade, not all sectors have been affected by slow economic growth and turbulence in the financial markets. On the contrary, many areas of cooperation received additional stimuli for development.
Russia's agricultural produce and bottled water, constitute a good source for growth and expansion of exports to China. The Narzan mineral water producer plans to export 100 million bottles to China annually. Miratorg [a Russian food company, which runs a chain of supermarkets - RBTH] intends to export pork to China this year with estimated volumes of 2,000 tons per month. These are just a handful of examples.
There is also a lot of potential for the export of natural gas and other green energy resources to China, since the Chinese government is focused on cleaning the air in the country and reducing dependence on dirty energy sources such as coal.
Although there has been a reduction in the overall trade volumes, the electronic commerce sector is growing. Yandex, Russia's largest IT company opened an office in Shanghai and the Yandex.Kassa payment service's Chinese turnover has increased sevenfold in the last year.
Moreover, in September the Chinese TradeEase online platform began operating in Russia, helping people buy Chinese goods online.
There is also potential to increase trade turnover within the high-tech sectors of the economy. China is interested in Russian icebreaker technology, and Chinese investors are looking at Russian aircraft manufacturing. In the beginning of September, Jiangsu Baoli International Investment and Xi'an Aircraft Industrial Corporation signed an agreement with the Ministry for Development of the Russian Far East to assemble MA-600 turboprop aircraft in the Komsomolsk-na-Amure territory of accelerated development.
It is obvious that overall indicators often distort the general picture when it comes to Sino-Russian trade. Bilateral cooperation between Russia and China is developing and is witnessing a qualitative improvement.
Even if bilateral trade figures don't touch $200 billion by 2020, a new, improved and more diversified structure of economic interaction will most likely be in place by then.
All rights reserved by Rossiyskaya Gazeta.