Why do Western media predict BRICS's early demise?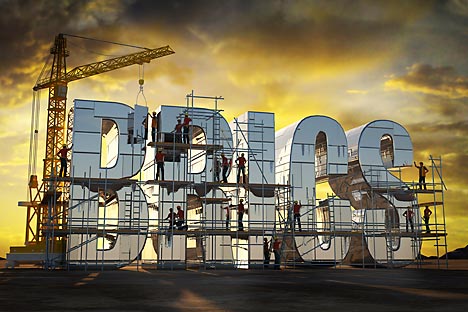 Source: Getty Images / Fotobank
The rumors of BRICS's death are grossly exaggerated, experts say.
It is for two years now that Western mass media have been coming up with gloomy forecasts regarding the prospects of BRICS — an association of five countries — Brazil, Russia, China, India and South Africa. Very authoritative periodicals take turns to predict no easy times for BRICS or, still worse, its early demise. The rumors of BRICS's death are grossly exaggerated, Russian experts say with certainty. The more so, since the agenda of BRICS, where India will take over the presidency from Russia later this month, envisages a further build-up of cooperation and strategic partnership within the quintet.
First, most of the conclusions to the effect the days of BRICS are numbered were based on the slowdown of China's economic growth. The US periodical Investor's Business Daily said last year that BRICS had failed to rise to the expectations that had been pinned on it, failing to serve as a world economic growth engine. Only one of the five countries — India — is in good economic shape. Now all the blame is put on Russia and Brazil. On January 28 the Financial Times said: "The Brics are dead. Long live the Ticks." The prolonged recession in Russian and Brazilian economies leaves no room for describing BRICS as the main driving force that may keep the emerging markets going. "It might seem that the heads of funds making investments into the emerging markets have already identified more promising countries in that respect: Taiwan and Korea have ousted Brazil and Russia from BRICS, thereby turning the alliance into TICKS.
At this point "one unanswered question is whether this trend reflects an underlying structural change or whether it is purely cyclical, with sectors such as IT and consumer stocks naturally seeing their weightings rise as commodity-related companies go backwards," says the Financial Times.
Russia's presidency of BRICS is coming to an end. India will take over on February 15. Russian Deputy Foreign Minister Sergey Ryabkov has summarized the results of Russia's BRICS presidency in an interview to TPP-Inform. "The Ufa summit on July 8-9 approved of the BRICS Economic Partnership Strategy to identify guidelines for long-term cooperation in trade, innovations and investment. The summit created the New Development Bank and a reserve currency pool totaling $200 billion dollars. We hope that the New Development Bank will finance its first project already this year."
Ryabkov said the partners supported Russia's idea of drafting a road map for trading, economic and investment cooperation extending till 2020. It is noteworthy, Ryabkov said, that the consolidated stance of the BRICS quintet played a major role in advancing the process of reforming quotas and votes in the International Monetary Fund. "At the end of the last five-year cycle Brazil, Russia, India, China and South Africa controlled about 14.7% of the votes. This enables our countries to block the decisions we do not like. Already now it will be easy to find supporters to raise the still missing shares of a percent to have the 15%-share required for using the veto power."
BRICS is not just about economics, though. The association has been firm in its policy of fostering international peace, stability and security. Priority attention was paid to the tasks of joint resistance to global challenges and threats, Ryabkov said.
"BRICS can be considered from two points of view - its investment component and as a political and economic association created for a higher level of integration, Professor Aleksandr Abramov, of the Higher School of Economics told TASS. "From the investment standpoint opinions may vary. The Financial Times has expressed its own opinion of just one of the aspects, nothing more than that."
"Saying that BRICS is in its last days would be very wrong. After all the countries are working on far-reaching economic and political plans," he said.
"First and foremost BRICS unites countries with fast and booming markets," the chief research fellow of the Financial University under the Russian government, Valery Abramov, has told TASS. "This is a key factor. These countries have their own interests in developing the world financial and economic system."
"Attempts by these countries with large and developing markets to conduct their own agreed and coordinated policies is not to the liking of the industrialized countries," he said. "Hence the media campaigns against BRICS. They all reflect financial wars and global competition. As a matter of fact, one can see a string of strategic steps aimed at preventing closer unity among these countries."
First published by TASS.
The opinion of the writer does not necessarily reflect the position of RIR.
All rights reserved by Rossiyskaya Gazeta.