Political division over Ukraine sets scene for thaw in Russia-EU relations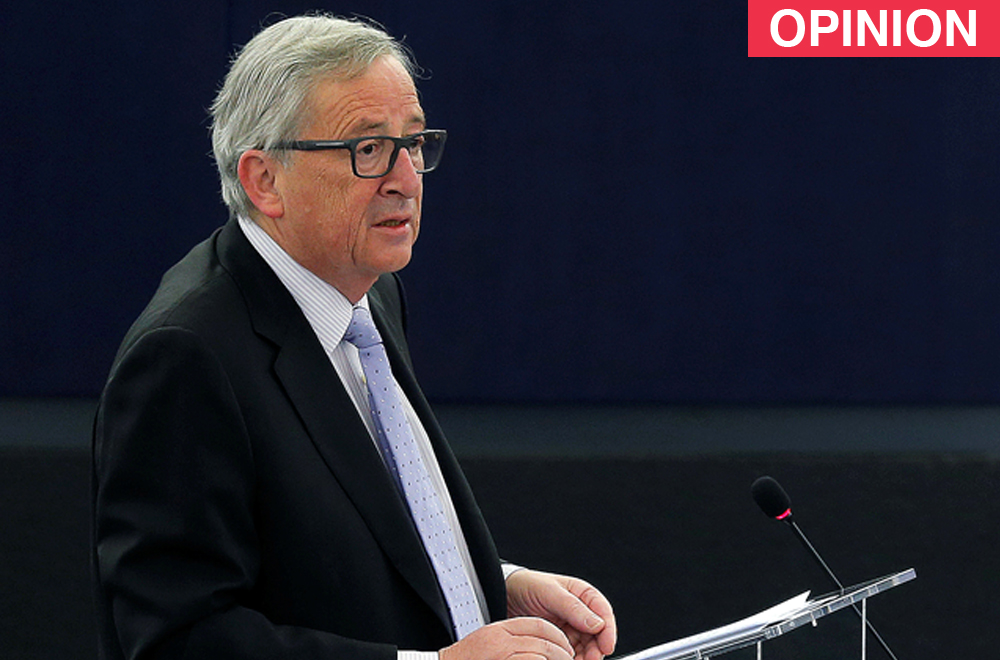 EU Commission President Jean-Claude Juncker will attend the St. Petersburg International Economic Forum.
Reuters
The release of Ukrainian pilot Nadiya Savchenko by Moscow and hints in Germany of a relaxation on sanctions, as well as positive overtures toward Russia by EU Commission President Jean-Claude Juncker, have raised real hopes that Russia and the EU may be ready to start rebuilding their relationship.
Those experiencing a Siberian winter for the first time usually agree on one thing. That it feels like it will never end. Often the first snow comes in late October and, in certain regions, can endure until the following May. By March, most new arrivals are starting to question their move. And sanity. Nevertheless, when the thaw arrives, it acts quickly and a glorious summer usually follows.
In recent years, Russian-EU relations been stuck in a deep freeze of Siberian proportions. From Brussels' point of view, Moscow has behaved appallingly in "annexing" Crimea and sponsoring rebels who have caused mayhem in Ukraine.
In fact, NATO believes that the Kremlin's support has gone much further and that actual Russian soldiers have been covertly operating there. At the same time, some Eurocrats have accused Moscow of "weaponizing" everything from information to migration in a "hybrid war" against EU states.
Viewed from the Kremlin, the situation looks different. Russian officials are adamant that Eurocrats destabilized Ukraine by forcing the divided country into making a definitive choice between Moscow and Brussels.
Indeed, they are convinced that the "Eastern Partnership" program was designed specifically to weaken Russia. Additionally, some Russian apparatchiks have openly stated their conviction that the EU has turned into the "political wing" of NATO and is ultimately controlled by the United States.
Glacial winter
When it comes to Crimea, Russians insist that Moscow's "reabsorption" of the peninsula was the free and democratic choice of local residents. Interestingly, this stance is backed up by some Western opinion poll firms, as Forbes magazine reported in March 2015.
Despite this, many Western governments still maintain that they will never recognise the legitimacy of Russian control in Crimea. Fear of setting a precedent that could later be used to wreak havoc on the Baltic states is probably a significant factor in this thinking.
Thus, while many business and personal connections remain strong, at political level Russian/EU relations have been glacial. Worryingly, signs of a softening have often seemed very far away as rhetoric from both sides has ebbed and flowed. However, this past week, things have changed. And they've followed the pattern of a late-arriving Siberian spring by briskly defrosting.
Here comes the sun?
The process seemed to begin on the morning of May 25 when Russian President Vladimir Putin pardoned Ukraine's Nadiya Savchenko, whose detention and conviction had caused Western outrage. Immediately, EU officials were falling over themselves to celebrate the move.
By the weekend, the German news weekly Der Spiegel, which is often regarded as the house journal of Angela Merkel's CDU party, was reporting that Berlin was considering the relaxation of sanctions against Russia.
Of course, the motives here might not be totally benevolent. After all, some EU leaders – most notably in France, Italy and Greece – have expressed dissatisfaction with the policy. As a result, Merkel may feel that retaining unity on the issue, as things stand, is impossible and that compromise is needed to preserve EU consensus.
Whatever the reasons, the fact that Der Spiegel carried the story almost certainly means that it reflects German government thinking. And talk of sanctions rollback is music to Moscow's ears right now.
Then, just when the Kremlin was digesting the notion of the embargo easing, up popped Jean-Claude Juncker with even better news. On May 30, the EU Commission president revealed that he will attend next month's St. Petersburg International Economic Forum, widely known as the "Russian Davos." His spokeswoman said that "he will use this opportunity to convey to the Russian leadership as well as to a wider audience the EU's perspective regarding the current state of EU-Russia relations."
Leonard Cohen once wrote that "there's a crack in everything. That's how the light gets in." Yet, it has taken a long time for Brussels and Moscow to uncover a luminous crevice. Russians will now hope that this diplomatic winter is finally over. So will many of the European businesses that have suffered under Moscow's counter-sanctions.
Bryan MacDonald is a Moscow-based commentator.
The opinion of the writer may not necessarily reflect the position of RBTH or its staff.
Subscribe to get the hand picked best stories every week
All rights reserved by Rossiyskaya Gazeta.