U.S. Republicans may force Baltic leaders to finally grow up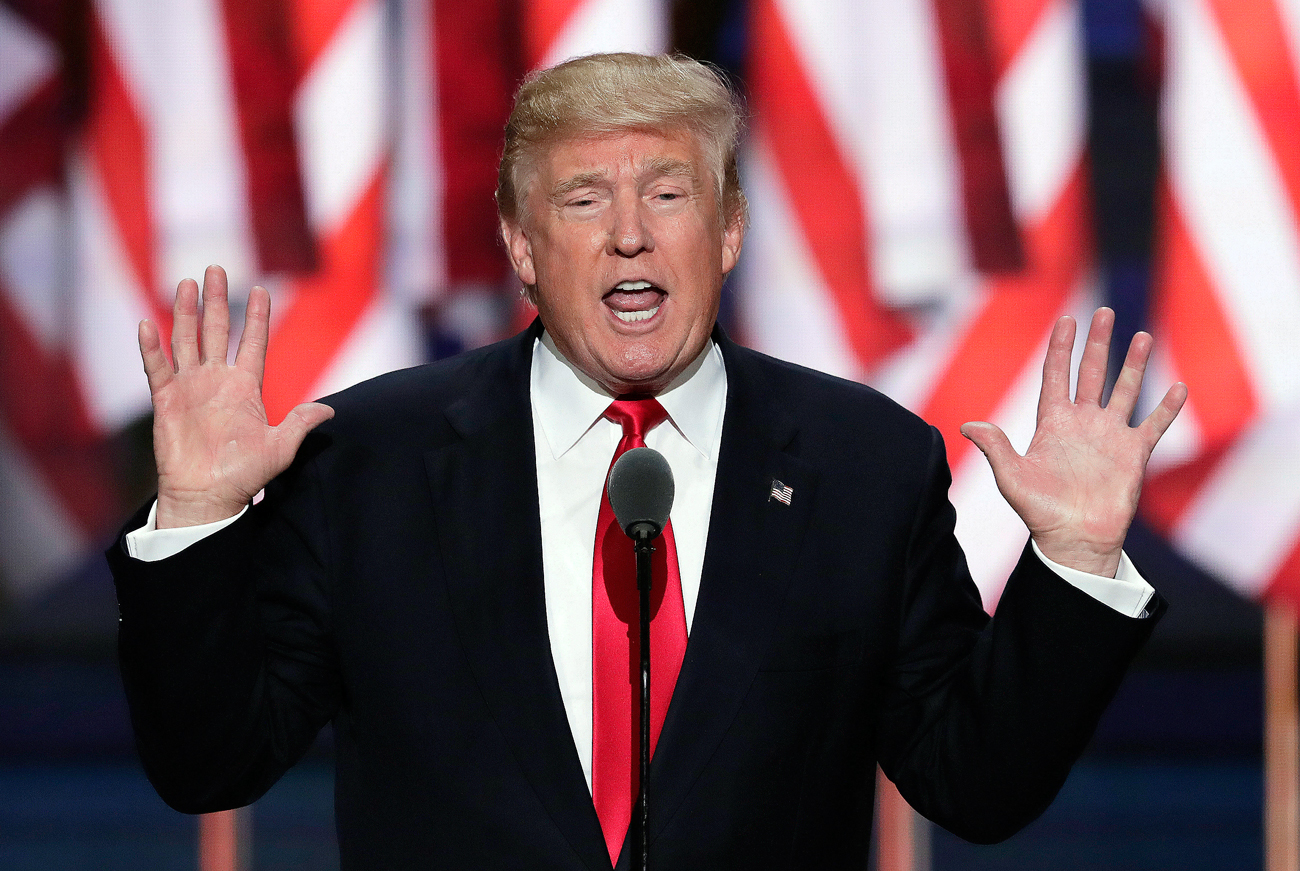 Republican Presidential Candidate, Donald Trump, speaks during the final day of the Republican National Convention in Cleveland.
AP
Journalist examines recent comments by U.S. presidential hopeful Trump.
I've never met the Estonian President, Toomas Hendrik Ilves. Not only that, I've never written about him before now. And prior to last summer, I hadn't so much as mentioned his name on social media.
Then one day his Twitter handle was tagged on a link a friend shared and I clicked through, only to find that he had blocked me on the platform. Naturally, I found it strange that the president of a European country had nothing better to do than cut off a journalist with whom he had never interacted in any form.
After I posted on Twitter about it, others noticed that he'd erected a digital barricade in their direction, too. They included Danielle Ryan, a noted writer on Russian affairs, and Kari Kasper, an Estonian human rights law lecturer. Incredibly, Ilves has also blocked Julian Roepcke, the pro-NATO political editor of Germany's best selling newspaper, Bild.
Estonia's President Toomas Hendrik Ilves takes a selfie during the Song and Dance Celebration in Tallinn. Source: Reuters
The reason for this preamble is not to attack the Estonian president, a former journalist for U.S.-funded media, but to give an insight into the thinking of Baltic leaders, who often exhibit signs that they lack political maturity.
Red alert
The stock-in-trade of Baltic leaders for a long time now has been to refuse to accept responsibility for domestic failings and to blame most of the region's travails on Russia. This attitude not only shortchanges their own citizens, but helps fuel tensions on NATO's eastern frontier that contribute to the currently difficult relations between Russia and the West. And Baltic politicians have continuously sniped away at Russia, under the umbrella of American protection, while making almost no efforts at all to create a proper dialogue with their largest neighbor.
Now, it seems that some U.S. Republicans are preparing to force the Baltic elite to get its house in order. On Thursday, July 21, Newt Gingrich, a former speaker of the U.S. House of Representatives, showed support for recent comments by the party's presidential candidate, Donald Trump, about America's commitment to NATO.
"Estonia is in the suburbs of St. Petersburg," Gingrich said. "The Russians aren't gonna necessarily come across the border militarily. The Russians are gonna do what they did in Ukraine. I'm not sure I would risk a nuclear war over some place which is the suburbs of St. Petersburg. I think we have to think about what does this stuff mean."
Now, it's a bit of a stretch to claim that Estonia is a hamlet of St. Petersburg. In reality its easternmost city, Narva, is a two-hour drive from the former Russian capital, which is about the same as a spin from downtown Manhattan to Center City in Philadelphia in an American context.
A clear threat?
To be sure, Estonia, Latvia and Lithuania do have some grounds to fear Russia and the rhetoric of certain Moscow politicians is often appallingly incendiary. For instance, political party leader Vladimir Zhirinovsky, widely regarded as a clown in Russia, made some outrageous comments about Poland and the Baltic states in 2014. Speaking about a hypothetical conflict between East and West, he stated that, "they will be wiped out. Nothing will remain there." The failure of Russian government officials to condemn Zhirinovsky was doubtlessly noted in Riga, Tallinn and Vilnius.
It should be noted that NATO's military chief, Petr Pavel, admitted last month that the alliance saw "no imminent Russian threat to the Baltics." And this brings us back to a question that NATO's media boosters have always been unable to answer: why would Russian invade the Baltics, and if it did, what would it do with them?
At this juncture, Donald Trump has every chance of winning this fall's U.S. election. His rival, Hillary Clinton, remains unpopular with huge swathes of the American electorate, and Trump's status as a political outsider could work to his advantage. This prospect should exercise Baltic minds.
Right now, there exists a chance for a proper rapprochement between Moscow and its former Soviet colonies. However, the first moves will probably have to come from the Russian side. If President Putin reached out to Baltic leaders, would they agree to discuss burying the hatchet? Or would they block him, as they do to some journalists and commentators that don't share their views?
Bryan MacDonald is a Moscow-based commentator.
The opinion of the writer may not necessarily reflect the position of RBTH or its staff.
Subscribe to get the hand picked best stories every week
All rights reserved by Rossiyskaya Gazeta.