Departure of Ivanov is just political routine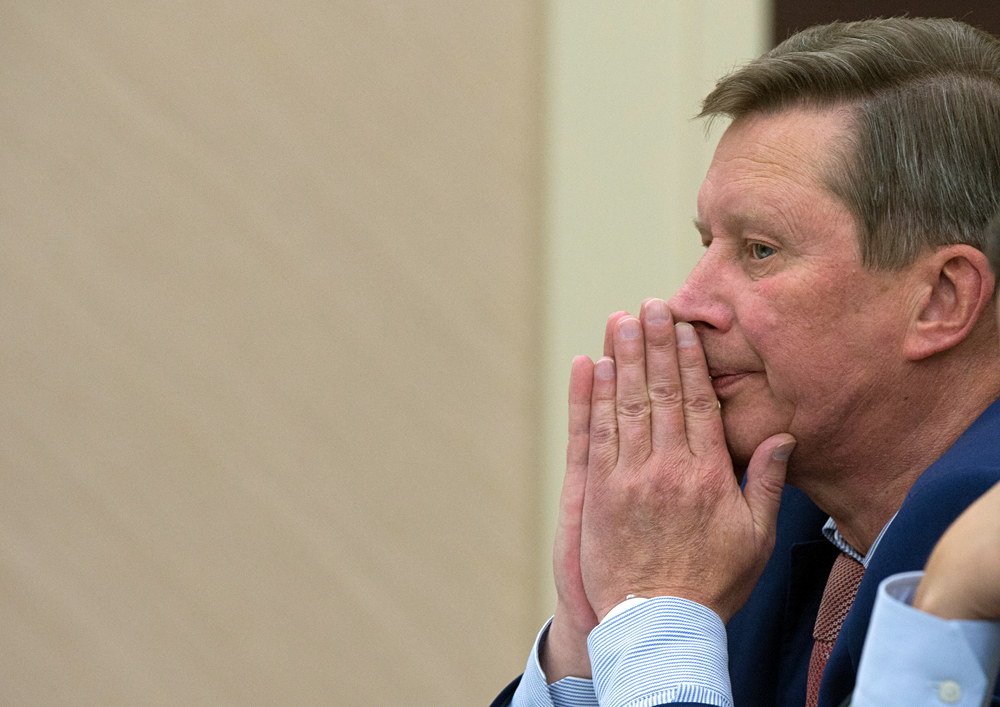 Former Chief of Staff of the Presidential Executive Office Sergei Ivanov
Sergey Guneev/RIA Novosti
Sergei Ivanov's sudden resignation could be part of a broader political trend, with Vladimir Putin looking to appoint new people who could gain some experience now, and guide a smooth transfer of power later.
Russian President Vladimir Putin removed his longtime Chief of Staff Sergei Ivanov last week and appointed Anton Vaino, a relatively unknown Russian official, in his place. While the move appears to be a matter of political routine, the departure of such a key member of President Putin's inner circle is likely to have important implications.
To minimize controversy, the Kremlin announced Ivanov's resignation in the way it usually does for top officials. Ivanov even appeared on Russian state TV, still in President Putin's good graces, for all to see. Normally, major decisions concerning key personnel are taken close to the weekend, to avoid too many comments and speculation. Even better if it's a summer weekend and people are away on vacation, as in the case of Ivanov.
Ivanov, for years Putin's right-hand man and among the most influential and reasonable persons in the Kremlin left, he claimed, for "personal reasons". He had sought the President's permission for such a resignation several times earlier, especially after the tragic death of his son [The 37-year-old son of presidential chief of staff Sergei Ivanov drowned while vacationing in the United Arab Emirates in November 2014 – Editor's note].
After his resignation, Ivanov can focus on the area about which he is most passionate – protecting the environment. Ivanov is famous for his zeal in wildlife protection (especially Amur tigers and leopards), and is considered an expert in this area. Taking into account that 2017 will be celebrated in Russia as the year of environmental protection, such an appointment is quite symbolic and may become a source of significant support for future environmental initiatives.
Ivanov's new designation is 'Special Presidential Representative' and includes the word "transport" [he is expected to become a special presidential envoy for the environment and transportation – Editor's note]. This makes his position much more than just a sinecure. This is a multi-billion-dollar industry, and one that is a permanent focus of the President, as Russia's infrastructure projects are regarded as paramount for national development.
Moscow plans to invest significantly in transportation before the 2018 FIFA World Cup. Additionally, one of the competing national economic strategies advocates an increase in spending on infrastructure development using the nation's current limited reserves. So Putin really needs someone he can trust to supervise this industry and its huge financial flows.
Nonetheless, there might be some political implications of the replacement of Ivanov with Vaino. As the new Chief of Staff, Vaino has immediate access to the President and determines his daily schedule. This makes him extremely influential. Vaino is the person who will now determine which events Putin will attend and, therefore, can regulate the flow of visitors and guests attending them.
Vaino has never been known to abuse his power, nor has he been mentioned in any political scandals and behind the-scenes power games. He is equally distant from both different business and power groups in the president's inner circle.
His alleged link with one of the nation's oligarchs – Sergey Chemezov, one of the most influential people in the Russian defence industry and the head of Russia's state high-tech corporation Rostec — is weak at best. Vaino can hardly be a lobbyist for Chemezov's interests (after all, Chemezov has his own direct and reliable access to the President).
Meanwhile, Vaino's neutrality and background as a technocrat might be convenient for Putin and could have at least two explanations. The first is that he is temporary and will likely be replaced in a year or two by someone with greater influence and interest in politics.
Second, the President's Office could gradually lose its political importance and increasingly comprise more technical and administrative staff. After all, Putin needs stable institutions for the painless succession of power. Hence, he may eventually decide to strengthen other bodies, such as the government and the parliament, during his next presidency. This will reduce the risks and make the system more sustainable.
The article is abridged. Read the full version published by Russia Direct.
All rights reserved by Rossiyskaya Gazeta.