Kremlin snubs Tokyo's present overtures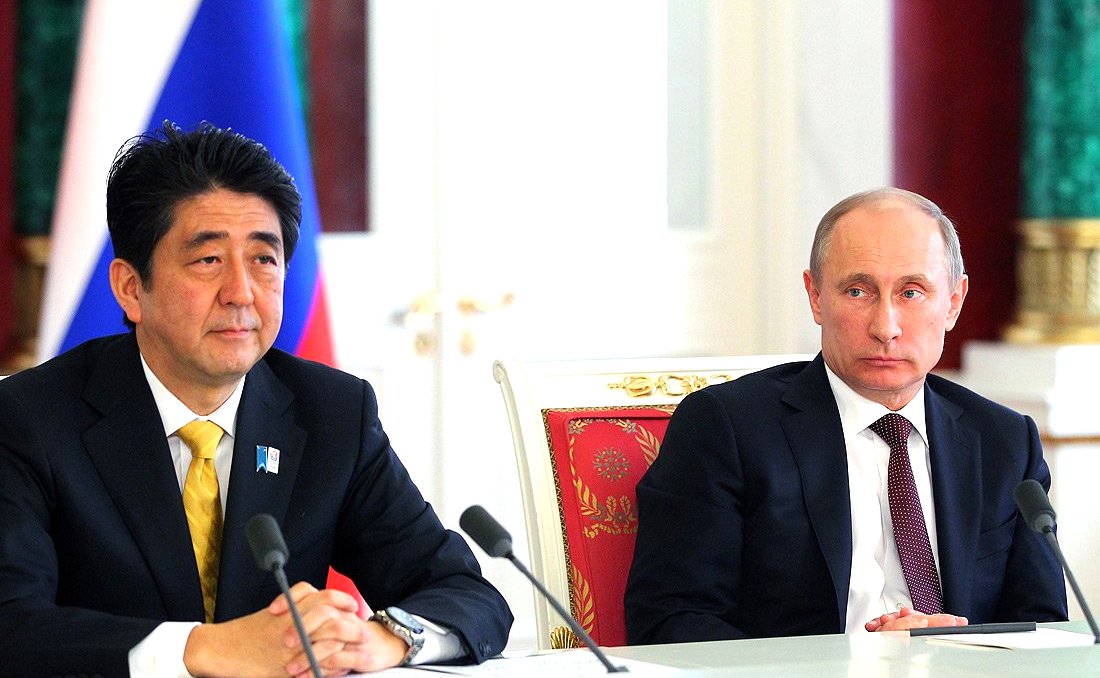 The chill in bilateral ties is not likely to thaw soon.
Kremlin.ru
Moscow's refusal to accept Tokyo's gift of a pup as a present for the Russian President's forthcoming visit to Japan indicates that the chill in bilateral ties is not likely to thaw soon.
On the eve of the long-awaited visit of the Russian President to Japan, the Land of the Rising Sun, scheduled to take place on December 15-16, Tokyo, understandably, intensified its level of preparations for the visit.
The Japanese media reported that Tokyo "did not take into account the objections of Washington", which is not keen to see too warm a reception being accorded for Vladimir Putin. These messages should not be taken at face value.
Japan is a country with a limited sovereignty, whose freedom to make independent decisions has limits. However, at a moment of a major change in the US administration, and prospects for a large-scale shift in US foreign policy, perhaps Japan really has some gained serious leeway. It is possible to ignore the "wishes" of those formally in power, but who have, in fact, lost much of their influence – the (Barack) Obama Administration, and those who have not yet taken the White House – the Donald Trump Administration.
It is entirely likely that the media 'leak' was nothing but a PR stunt, without any serious background. As is already known, President Putin's previous visit to Japan was disrupted, because of US pressure. Against this background, the current leak merely allows Tokyo to present itself in a more favourable light.
As a result, in recent years, Tokyo has taken some steps in various directions with the express purpose of currying favour with the Kremlin (and Russian public opinion), in order to make progress on the Kuril Islands issue.
Japan's Ministry of Foreign Affairs announced the imminent easing of visa requirements with Russia. And the Japanese media reported that their government has plans to soften the anti-Russia sanctions regime. The reasons for this are obvious. For Shinzo Abe, the Prime Minister of Japan, a breakthrough in Russian-Japanese relations is in fact a fixated idea. A breakthrough is intended only for the conclusion of a peace treaty, and the resolution of the territorial dispute.
It is also rumoured that Japan is ready for some very attractive and favourable, for Russia, cooperation in the fields of medicine and communications. A separate theme is bilateral cooperation in the fisheries and tourism spheres, as well as possible joint activities on the four disputed islands.
Japan is making a great deal of effort to demonstrate its hospitality and willingness to cooperate.
However, the main problem lies in the fact that all these gestures are only a supplement to the main – territorial – problem, and here the situation for Japan looks rather bleak.
On the one hand, Tokyo is locked in a trap of its own years-long propaganda, firmly sticking to its demands that all four islands must be returned, instead of just the two agreed upon in the 1956 declaration. However, progress and work on public opinion in this respect is ongoing.
On the other hand, in recent months, Russia has been demonstrating an extremely tough stance on this issue, at the highest levels.
As a result, a not too pleasant situation is developing for Tokyo on the eve of Putin's visit, when all attempts to soften Moscow's position on the Kuril Islands keep stumbling into a concrete wall.
Another very significant aspect was the refusal of Moscow to accept another dog of the Akita Inu breed as a present for Vladimir Putin. It is hardly possible to interpret this step as anything else, but a demonstration of the Kremlin's, at minimum, chilly attitude before the President's trip.
It seems that a very difficult visit of the Russian President, in all respects, lies ahead for Tokyo, with very dim prospects.
Does Japan deserve anything different, after the openly vassal behaviour it has been showing in the last few years?
First published in Russian by Vzglyad.
The opinion of the writer may not necessarily reflect the position of RIR or its staff.
All rights reserved by Rossiyskaya Gazeta.