The many agreements and memorandums signed during President Rouhani's visit to Moscow might pave the way for increased cooperation in many different fields.
The two nations, mistreated by the West's sanctions and containment policy, have found themselves on one side of history, collaborating with each other to stop the artificially instigated civil war in Syria that was part of the forceful policy of 'regime change' authored by the American Neocon theorist, Robert Kagan.
Moscow and Tehran, however, still have divergent views on various issues, and this complicates the question of Syria.
The Trio: Erdoğan, Netanyahu, Rouhani
The endgame in Syria's six-year quagmire seems to be nearing. Regional players are involved in hectic diplomatic efforts to secure their largely divergent interests.
The Moscow visit by Iran's leader comes on the heels of historic meetings earlier this month in the Russian capital, held first with Israeli Prime Minister Benjamin Netanyahu on March 9, and then the next day with Turkish President Recep Tayyip Erdoğan. The three visits confirm that some of the keys to Syria's future are in Moscow.
Still, while the Kremlin seems to have struck a deal with Erdoğan to tone down support for Syria's Kurds, calming Israel's anxiety over the presence of Iranian forces in Syria was a tougher task.
Nevertheless, Netanyahu allayed the fears of his compatriots: "It's simply incorrect to say that the Russians are changing their policy toward us." Uneasiness in Israel, however, persists.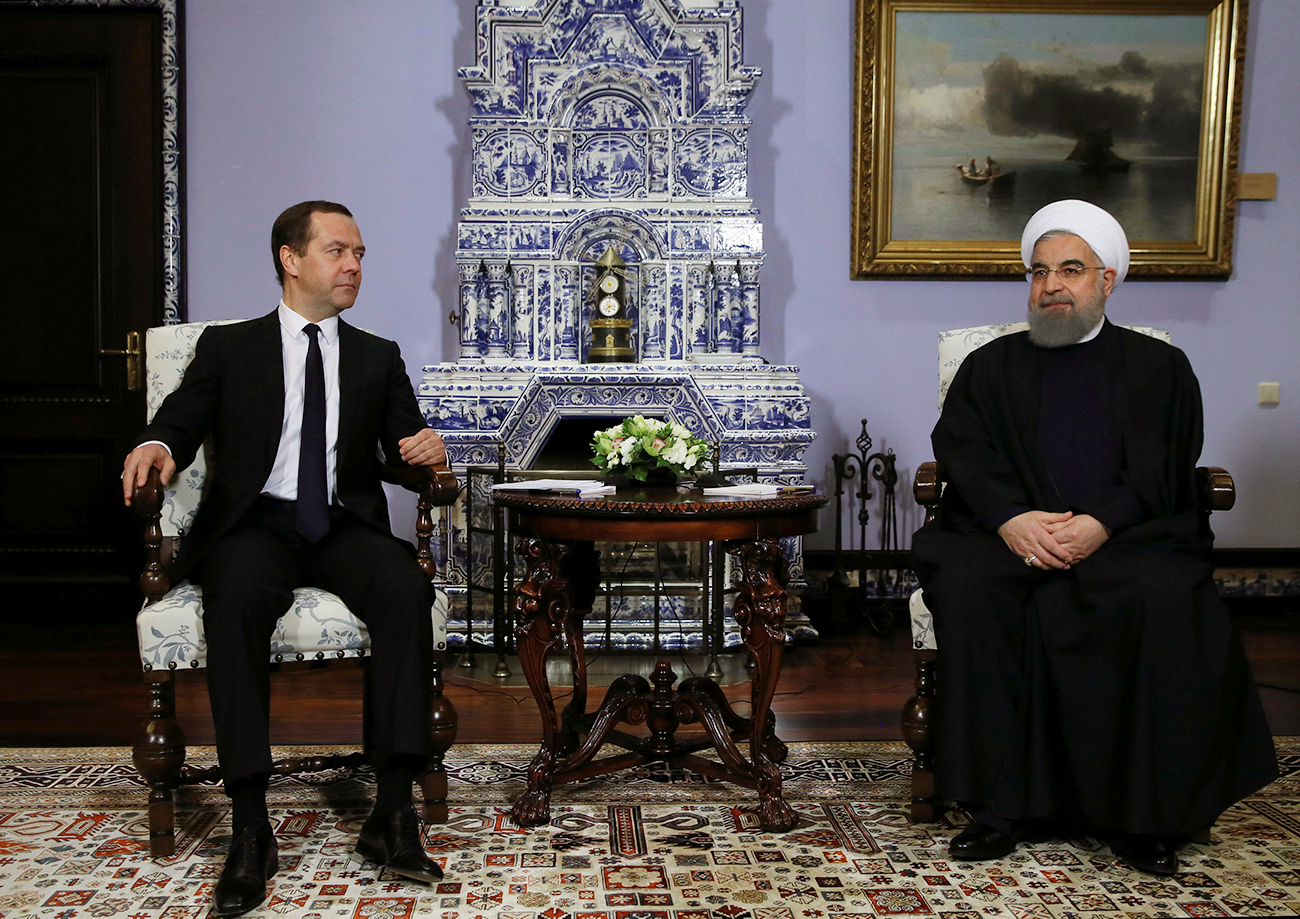 Russian Prime Minister Dmitry Medvedev meets with Iranian President Hassan Rouhani at the Gorki state residence outside Moscow, Russia. Source: Reuters
Tehran calls the shots
Undoubtedly, Moscow is under pressure from both Israel and Iran over the current status and future presence in Syria of Hezbollah fighters, as well as Islamic Revolutionary Guards, said Grigory Kosach, professor of Modern Oriental Studies at the Russian State University for the Humanities. He emphasizes that there are even bigger concerns and potential bones of contention between Moscow and Tehran.
"The post-war situation in Syria was definitely the focus of bilateral negotiations. I wouldn't be surprised that Moscow and Tehran do not see eye-to-eye over who might be the successor to Bashar al-Assad. Moscow has a weaker position because it relies only on Assad, but Tehran has already engaged with top military and civilian officials and most probably has a pool of candidates to best serve its interests. Moscow has no one to bet on except Assad. Tehran will call the shots."
Isn't this a bit of an exaggeration given the widely acknowledged success of Russia's military support to Assad's regime and its diplomatic engagement with some parts of the opposition?
"Syria's Minister for National Reconciliation, Ali Haidar, was recently quoted in the American media as saying that Russia's influence is limited. Iran, on the contrary, will be the one to determine the agenda of post-war Syria."
Do you mean to say that Moscow misplaced its confidence by backing Assad only and avoiding the search for an alternative?
"Very much so. Moscow has limited room for manoeuvre. If Assad is ousted, it might bring about the same fiasco as in Egypt when President Anwar el-Sadat ended all agreements with the Soviet Union and expelled all Soviet advisors overnight. I have a feeling of déjà vu: Russia seems to be making the same mistakes as the USSR."
Too early to discount Moscow
Irina Fedorova, a senior Iran expert at the Institute of Oriental Studies of the Russian Academy of Sciences, does not share Kosach's critical assessment of the degree of Moscow's influence on Syria's internal affairs. She believes that Iran's leverage in the devastated country is also limited.
"Russia's high-tech military power was the game-changer in the multi-front hostilities ravaging Syria, and Iran is well aware of this. Moreover, there is a very feeble hope that these hostilities will soon end. There are too many actors in play, with divergent goals, and Iran won't be able to maintain sustainable peace in Syria without Russia."
This doesn't automatically mean that Moscow can persuade Tehran to accommodate the fears of its regional archenemy, Israel, does it? Moscow can hardly force Iran to withdraw Hezbollah and the Revolutionary Guards. For Iran, this is a red line that cannot be easily erased.
For Russia, however, damaging relations with Israel would be detrimental to its long-term interests as well. This is another red line, one drawn by Moscow. Fedorova, however, remains positive.
"This is negotiable, as anything else. After all, Iran must already deal with a plethora of unfriendly nations: Saudi Arabia, Israel, and its ancient rival Turkey. Then there's constant bellicose rhetoric from Washington. Under dire circumstances, Iran is wise to seek allies or at least friendly partners. Russia, in this respect, is the most obvious choice."
With new red lines drawn and redrawn in the sands of the Middle Eastern drama, the post-war settlement in Syria, which remains hostage to how and when the Islamic State will finally be defeated, is precariously balanced, figuratively speaking, on the sharp edge of a Damascus steel dagger.
Vladimir Mikheev is a freelance commentator for Russia Beyond The Headlines. His opinion does not reflect the position of RBTH or its staff.
If using any of Russia Beyond's content, partly or in full, always provide an active hyperlink to the original material.