Supporters of sacked Bolshoi dancer Tsiskaridze during a picket in Moscow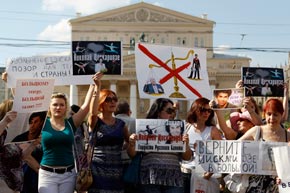 Supporters of sacked Bolshoi ballet star Nikolai Tsiskaridze hold placards demanding his return to the theatre during a sanctioned picket outside the Bolshoi in Moscow. A top ballet dancer with Russia's Bolshoi Theatre said he was hounded out over disputes with the management after an acid attack that nearly blinded its artistic director and exposed bitter rivalries over roles, power and pay.
Tsiskaridze, who was told he must leave at the end of the month, had been at odds with Bolshoi director Anatoly Iksanov even before the January 17 attack that stunned Russians with its brutality and left Sergei Filin with severe burns to his face and eyes.
Tsiskaridze, who has been at the Bolshoi since 1992 as principal dancer and teacher, has denied he had anything to do with the attack on Filin. Source: REUTERS / Sergei Karpukhin
All rights reserved by Rossiyskaya Gazeta.