A three-month old seal eats fish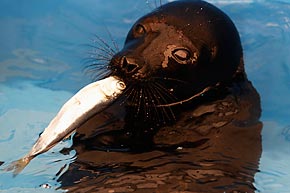 A three-month old Ladoga seal called Mekkerike 4 eats fish in its enclosure at a rehabilitation center for marine mammals in the village of Repino, some 45 km (28 miles) from St. Petersburg. The emaciated cub was found in a central park in St. Petersburg. Once the seal reaches up to 35-40 kg, it will be released into Lake Ladoga. Source:
Reuters/Alexander Demianchuk
All rights reserved by Rossiyskaya Gazeta.