A car in a flooded street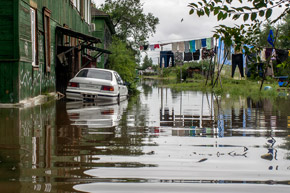 This picture taken on August 19 shows a car in a flooded street in the village of Bolshoi Ussuriysky island close to city of the Khabarovsk in Russia's Far Eastern Amur region. Russians in the Far East battled rising floodwaters as authorities evacuated more than 23,000 people from affected areas and scrambled to prevent the outbreak of infection.
Heavy rains pounding Khabarovsk, a Far Eastern city located near the Chinese border, since July have swelled the local Amur River to nearly 7 meters - a level unseen since monitoring of the area began in 1895. Source: AFP / East News
All rights reserved by Rossiyskaya Gazeta.