Top diplomats from the West and Russia discuss Ukraine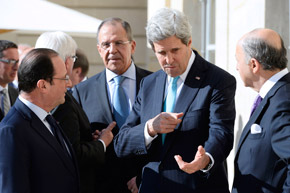 French President Francois Hollande (left), U.S. Secretary of State John Kerry (center) and French Foreign Minister Laurent Fabius (right) talk together while German Foreign Minister Frank-Walter Steinmeier (background left), Russian Foreign Minister Sergey Lavrov (background right), talk together behind them during a break of a meeting at the Elysee Palace in Paris, Wednesday, March 5, 2014. Top diplomats from the West and Russia trying to find an end to the crisis in Ukraine are gathering in Paris on Wednesday as tensions simmered over the Russian military takeover of the strategic Crimean Peninsula.
All rights reserved by Rossiyskaya Gazeta.