Looking for the political impetus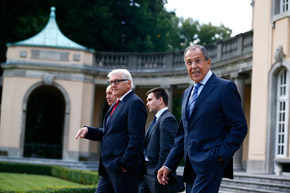 Foreign ministers Laurent Fabius of France, Frank-Walter Steinmeier of Germany, Pavlo Klimkin of Ukraine and Sergei Lavrov of Russia (L-R) walk in a park ahead of their talks in Berlin, August 17, 2014. Steinmeier said on Sunday, ahead of crisis talks in Berlin, that new political impetus was urgently needed to resolve the fighting in Ukraine because without it, there was a risk of further escalation. Source:
Reuters
All rights reserved by Rossiyskaya Gazeta.