Let's eat each other only for fun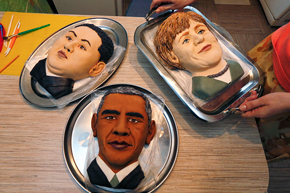 Russian artist Yelena Zelenskaya displays pies she baked that look like North Korean leader Kim Jong Un, U.S. president Barack Obama, and German Chancellor Angela Merkel, prepared for the art performance titled, "Sweet Sanctions. Let's eat each other only for fun" in Krasnoyarsk, Siberia, October, 2014. A group of local artists took part in the performance at the Krasnoyarsk Museum Center, where the pies represented three human races and continents and was held to oppose war, racism, and confrontation of cultures, according to organizers. Source:
Reuters
All rights reserved by Rossiyskaya Gazeta.