Behind Russia's $15 billion-plus arms export industry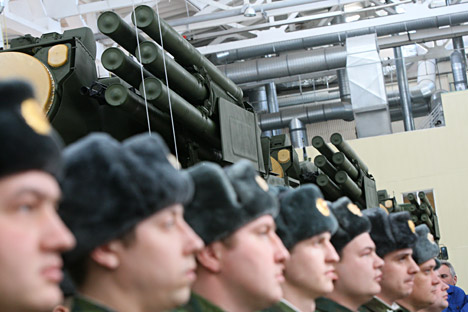 Russian Air force received first 10 of the new air-defense missile systems SA-22 Greyhound. Source: Alexey Kudenko / RIA Novosti.
Russia is still the second largest supplier of arms in the world, despite setbacks in the Middle East. Though it lost contracts in Libya, Syria and Iran, major customers such as China, India, Venezuela and even the U.S. remain on Russia's list for 2013. Forbes looks at some facts and figures behind Russia's military-industrial complex.
Russia has cemented its place as the world's second largest suppliers of arms. In 2012, the country shipped $15.13 billion worth of weapons, up $2 billion from the year before. If the tests on the INS Vikramaditya (the Indian navy's new aircraft carrier) had been successful and delivery had not been pushed back to the fall of 2013, Russian arms exports would have exceeded $17.4 billion in 2012.
Although Russian arms manufacturers still sell only a third of what their American counterparts achieve, the yearly rate of growth in exports and the over-fulfillment of annual plans cannot fail to please the authorities and defense industry chiefs.
The loss of Libya and the suspension of contracts with Iran and Syria have had no immediate impact on the flow of arms: alarmed at the sweeping Arab revolutions, developing countries are increasing procurements of military hardware. India and China are buying more Russian weapons, while other major customers of Russia's military-industrial complex include Algeria, Venezuela, Vietnam, and Indonesia. Last year, the list was supplemented by Azerbaijan, Iraq, and even the United States, which plans to purchase 70 Mi-15 helicopters for the Afghan army.
A report by the U.S. Congressional Research Service notes that, in recent years, Russia has learned to be more flexible with clients by offering favorable payment terms, loans, and offsets. The report also highlights Russia's readiness to enter into licensing agreements for the production of arms in the key markets of India and China. Admittedly, it also points out the associated risks, including China's practice of reverse engineering and copying foreign combat systems.
The "piracy" of the Chinese military-industrial complex comes as no surprise to anyone. In 2011, for example, China began production of the J-16 fighter, reverse engineered from the Russian Su-30MK2 it purchased in the mid-2000s. Prior to that, China not only set up production of Su-27 and Su-33 analogs, but also launched the Shenzhou space capsule, which echoed the design and construction of Russia's Soyuz in more ways than one.
Last year, Russia's state-owned arms exporter (Rosoboronexport) signed a contract to supply China with 52 Mi-171E transport helicopters for $600 million. It may well prove to be a one-time engagement, given that the Chinese army already has several analogs of European and Soviet helicopters in service.
What other Russian weapons are in demand? Forbes examined the statistics for 2008-2012.
Surface-to-air missiles (SAM)
In 2008-2011, Russia sold 7,750 SAM to developing countries; the U.S. shipped 944, while Western Europe managed only 290.
In 2012, Pantsir-S1 systems (SAM and anti-aircraft artillery; see photo) were sold to Iraq as part of a deal worth more than $4.2 billion. In addition to the 42 Pantsir systems, Iraq is to purchase up to 30 Mi-28N attack helicopters and, according to unofficial sources, MiG-29M/M2 fighters (hereafter the data quoted are from the Center for Analysis of World Arms Trade and the U.S. Congressional Research Service).
Armored vehicles
In 2008-2011, Russia sold 570 tanks and 490 armored vehicles; the U.S. sold 348 and 234, and Western Europe 360 and 470, respectively. In 2012, for the supply of 37 BMP-ZF infantry fighting vehicles, Rosoboronexport signed a contract worth $114 million with the Ministry of Defense of Indonesia. Russia also knows how to destroy armored vehicles: last year, it signed a contract to supply Invar and Konkurs-M anti-tank systems to India, worth almost $600 million.
Combat aircraft
In 2008-2011, Russia sold 180 combat aircraft — 3.3 times more than the United States. Meanwhile, Western Europe sold only 50 aircraft to developing countries. In 2012, a contract was signed with India for the supply of components for the domestic assembly of 42 Su-30MKI fighters (the contract was valued at around $1.5 billion). Another contract was signed with India on the conceptual design of a multi-purpose transport aircraft. In addition, China signed a contract for the supply of a consignment of Su-27/30 engines.
Helicopters
Russia sold 270 helicopters to developing countries in 2008-2011. In the same period, the U.S. offloaded 52 and Western Europe 110. In December 2012, a contract was signed for the supply of Mi-17V-5 helicopters, worth roughly $1 billion. Fifty-two Mi-171E helicopters are due to be shipped to China, worth approximately $600 million. Ten Mi-17V-5 helicopters are to be procured by the U.S. to equip the Afghan army.
Naval armaments
In 2008-2011, Russia sold 220 anti-ship missile systems, the U.S. 176, and Western Europe just 60. In 2012, Russia sold two frigates to India under Project 11356 (worth roughly $1 billion; see photo); Russia also leased out the Nerpa nuclear submarine, which was renamed the INS Chakra by the Indian navy.
First published in Russian in Forbes.
All rights reserved by Rossiyskaya Gazeta.