Putin seeks tough anti-corruption law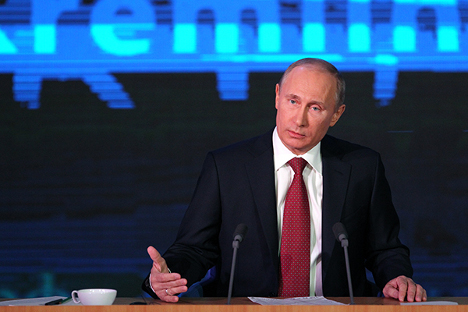 Russia's President Vladimir Putin. Source: RG
The president's initiative results from his anti-corruption speeches delivered during the latest state-of-the-nation address and election campaign.
Russia's President Vladimir Putin has submitted a draft bill to the State Duma offering measures to fight corruption and lobbying and strengthen national security. If it becomes a law, government employees and parliament members will be banned from having accounts and securities in foreign banks.
The draft bill applies to state officials who are responsible for making decisions that can have an impact on the country's sovereignty. It also addresses their relatives and under-aged children. The draft bill, however, does not ban officials from owning real estate abroad provided that they declare it. Putin's initiative results from his anti-corruption speeches delivered during the latest state-of-the-nation address and election campaign. The president views the issue as one of prior tasks faced by the government.
Apart from federal and regional officials, defence ministry officials and bankers, the draft bill applies to the heads of state-run corporations and foundations. Diplomats and officials representing Russia's interests abroad are not included in the list. Vice-Speaker of the Federation Council Alexander Torshin thinks that this crucial draft bill should be discussed within days. "Strengthening national security is what comes first," says Torshin. "If an official or his relatives own bank accounts or shares abroad they could face pressure from foreign authorities. We know many cases when bank accounts were arrested. Secondly, this initiative offers a new take on anti-corruption policy. Large corruption schemes are often linked with offshore assets. And if an official keeps all his money in Russia he will be more interested in the success of the national economy."
Three months after the draft bill becomes a law officials will have to close their assets in foreign banks otherwise they will be stripped of their mandates. The implementation of the law will be monitored by the Public Chamber, the Central Bank, federal institutions, political and public organizations and even mass media. Only anonymous letters won't be taken into consideration.
Nikolai Mironov, the director general of the Institute of Prior Regional Projects views Putin's initiative as a timely measure: "It paves the way to making the Russian economy less involved in offshore bank operations. Unfortunately, companies in our country often keep money abroad and not without support from government officials."
President Putin believes that his initiative will ensure stronger national security, reduce corruption and attract more money into the Russian economy. Public Chamber member Anatoly Kucherena said that the draft bill would be thoroughly discussed and won't be retroactive. Russia's leading political analysts and journalists are meeting on February 14 to share their views on the issue.
Leaders of parliament opposition parties have backed the initiative. The Communist Party head Gennady Zyuganov said that it was high time to impose harsh anti-corruption measures. Vice-Speaker for A Just Russia party, Nikolai Levichev, has suggested extending the list of government officials` relatives whom the proposed draft bill could be applied to.
First published in the Voice of Russia.
All rights reserved by Rossiyskaya Gazeta.