Russian officials may lose their foreign bank accounts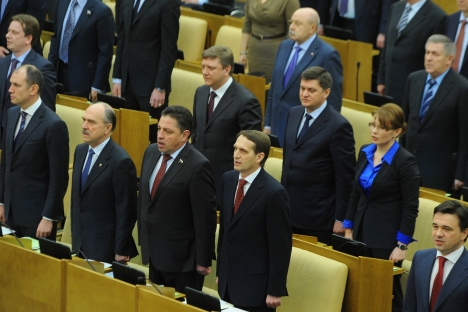 President Vadimir Putin has submitted to parliament a draft law that proposes senior officials lose the right to hold foreign bank accounts. Source: ITAR-TASS
While President Putin proposes to ban senior officials from holding foreign bank accounts, supporters of this stance argue that it may help fight corruption. At the same time, sceptics say that authorities try to minimize the consequence of the Magnitsky Law that imposes political sanctions agaimts Russian officials.
If President Vladimir Putin's initiative enters into legal force, officials whose duties relate to sovereign matters will be prevented from owning bank accounts and securities in foreign countries; the restriction would also apply to these officials' spouses and children.
In addition, the bill pertains to the Attorney General and his deputies, senior managers of the Central Bank and public corporations, members of the upper and lower houses of parliament, officials appointed by the president and governors.
Foreign bank accounts must be closed and securities alienated within three months of the law's entrance into force or within three months of the official's appointment. The penalty for non-compliance is dismissal.
The purpose of the ban is to "increase national security, regulate lobbying activity, and promote investment in the national economy," reads a memorandum to the president's bill.
In this regard, law enforcement agencies, government agencies, political parties, civil society organizations, and the media will all have the right to initiate a review of employees' compliance with these requirements.
The idea of limiting the financial activity of Russian officials abroad was formulated by President Putin late last year, in his annual address to the Federal Assembly.
"Who can trust an official or politician who waxes poetic about the good of Russia, but tries to squirrel all his loose change abroad?" said Putin then.
Some politicians believe that such a law will help strengthen national security.
"If an official or members of his family own foreign bank accounts or shares, it provides leverage. Foreign practice is replete with instances of freezing and sequestrating accounts," Alexander Torshin, deputy speaker of the upper house of parliament, was quoted as saying by the radio station Voice of Russia.
"Second, it is a powerful anti-corruption tool, since the biggest corruption schemes are not confined to Russia. Foreign accounts are always involved. Also, if an official keeps his money here in Russia, he'll be more concerned about the state of the domestic economy," said Torshin.
Moreover, lawyers say the ban will help prevent conflicts of interest.
"I think the idea is correct. In respect of entering the civil service and discharging duties in that capacity, it acts as a preventive measure to avert conflicts of interests between public servants and the citizens, society, and state that they represent," lawyer Elena Ovcharova said, as quoted by RIA Novosti.
Skeptics, meanwhile, doubt that the adoption of such a law could contribute anything meaningful to the fight against corruption. It is noted, for example, that the bill does not include a ban on ownership of foreign real-estate; as before, such assets only have to be declared in tax returns.
"The initiative has nothing to do with tackling corruption; it stems from the concept of state sovereignty as understood by the present authorities," said the deputy director of Transparency International Russia, Ivan Ninenko, in an interview with Gazeta.ru.
In fact, Ninenko asserts that the bill reduces the risks that the Magnitsky Law and similar acts could pose to Russian officials: without foreign bank accounts, they will be out of the impact zone.
The article is a combined report based on materials from Vedomosti.ru, Voice of Russia, RIA Novosti and Gazeta.ru.
All rights reserved by Rossiyskaya Gazeta.