Bucking 'anti-incumbency' Lula's way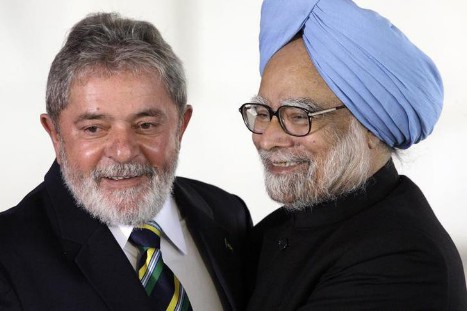 Luiz Inacio Lula da Silva and Manmohan Singh. Source: Reuters
The mystique of democracy is that there is no certainty whatsoever as to which way an electoral verdict would go.
For an incumbent government in a working democracy, the most terrifying moment comes when it approaches the people seeking a renewed mandate after the completion of its term in office. Even a politician with iron nerves will tremble with trepidation. The mystique of democracy is that there is no certainty whatsoever as to which way an electoral verdict would go.
Saddled with the burden of a track record, an incumbent government becomes particularly vulnerable. Calculations can go completely awry – such as, for instance, when the incumbent National Democratic Alliance government in India advanced the parliamentary election in 2004, sure that it would win through a media blitzkrieg by projecting its record in office under the mesmerizing rubric 'India Shining', and finally ending up getting thrashed at the poll and sent packing into the political wilderness.
This is what makes the re-election of Rafael Correa as the president of Ecuador for a second six-year term truly breathtaking. To get re-elected bucking 'anti-incumbency' and with an increased majority – and, that too, an impressive majority of 58 percent of votes – is no small matter in a democracy. In India, such a thing probably happened only once since independence when Indira Gandhi cashed in on the national euphoria that followed her 'creation' of Bangladesh in 1972. But Correa's mandate does not stem from frothing nationalism, which he deliberately whipped up in the regressive traditions of demagogic populism of a charismatic leader. It lies instead in solid achievements in transforming his country's political economy.
Even Forbes magazine grudgingly acknowledges that his "social programs have won acclaim." In plain terms, he took control of Ecuador's fabulous oil wealth from predatory foreign companies and single-mindedly diverted the resources to create better life for the poor and dispossessed millions in his country. Correa's record is plain to see: free healthcare, free education for the poor – all in a matter of just six years. No wonder, his people adore him. Who says socialism is dead?
India's trade unions have just begun an unprecedented two-day national strike on Wednesday to press their demands which include healthcare and minimum wages. The Wall Street Journal notes that the "nationwide strike underlines the discontent among workers who feel they have been mostly left out of India's economic prosperity over the past decade." Correa's magnificent victory should be an eye opener for India's ruling Congress Party, which is struggling against a cascading 'anti-incumbency' wave that might vanquish it in the 2014 parliamentary election.
How to beat 'anti-incumbency' in a functioning democracy and retain political power in a free and fair election? The Latin American democracies provide a meaningful clue. Hugo Chavez has shown the way in Venezuela, and now Correa in Ecuador.
There is no big secret here, actually. Both Chavez and Correa resorted to economic policies that kept in mind that the majority of people in their countries were desperately poor and the two leaders never lost sight that they should run a government for the people. Both leaders pursued policies of increased social spending and Ecuador, in particular, has seen remarkable drop in the country's poverty rate by nearly five percentage points during Correa's first term in office.
But then, arguably, Venezuela and Ecuador are small countries in comparison with India, which is a veritable continent. Does the analogy of these small countries hold good for India? To my mind, it broadly does. The commonality is that the core issue of development for all three countries is essentially the problem of poverty. And a responsive democracy is judged in terms of how it tackles the problem.
This has also been the experience of Luiz Inacio da Silva in Brazil. In a way, Lula is a more accurate analogy for India. He too won a mandate in 2002 on a populist plank – a variant of the campaign conducted by India's Congress Party to win the 2009 parliamentary election by assertively projecting that it is a political party that champions the cause of the poor people – and thereafter went on to pursue neo-liberal policies fixated on boosting the growth rate of the Brazilian economy by cutting budget deficits and abandoning social subsidies. Inflation began climbing and corruption and sleaze increased by leaps and bounds, almost on the same scale that India has been witnessing in the recent years.
A pervasive mood of cynicism began gripping Brazil, reminiscent of what India has been passing through lately. But Lula sensed danger. As he began sensing he was nearing a flashpoint and had probably squandered away his massive popularity, Lula changed course.
Of course, this is where the real difference lies with the ruling elites in India. For Lula, the change of course came naturally because he was essentially committed to helping the poor. Suffice to say, as Perry Anderson explained Lula's course correction in a magnificent essay titled Lula's Brazil in the London Review of Books two years ago, "In combination, faster economic growth and broader social transfers have achieved the greatest reduction in poverty in Brazilian history. By some estimates, the number of the poor dropped from around 50 to 30 million in the space of six years, and the number of the destitute by 50 percent. Half of this dramatic transformation can be attributed to growth, half to social programs – financed by higher revenues accruing from growth."
To cut an exciting story short, Lula walked away with the same majority in the 2006 election as he won four years before – 61 percent in the second round. But the second time around, there was a core difference in the alchemy of his re-election victory. "This time," Anderson narrates, "its social composition differed. Alienated by the mensalão, much of the middle-class electorate that had rallied to Lula in 2002 deserted him, while the poor and the elderly voted for him in greater numbers than ever before." India's Congress Party can still take a leaf out of Lula's epic story. The LRB essay is here.
All rights reserved by Rossiyskaya Gazeta.