Why deputy foreign minister Gatilov values Twitter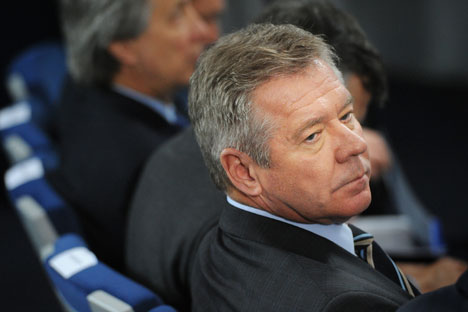 Deputy Foreign Minister Gennady Gatilov: "Twitter enables me to share my opinions on a whole host of foreign policy issues, using a language that is different from that of official comments." Source: ITAR-TASS
Amongst all of Russia's diplomats, Deputy Foreign Minister Gennady Gatilov has the most popular account on Twitter. He explains to Kommersant-Vlast magazine why he needs a microblog and how he maintains his social-network following.
Amongst all of Russia's diplomats, Deputy Foreign Minister Gennady Gatilov has the most popular account on Twitter. In his interview with Kommersant Vlast's Yelena Chernenko, Gatilov talks about why he needs a microblog, the benefits of Twitter, and how he maintains his social-network following.
Kommersant Vlast (KV): Why did you open a Twitter account?
Gennady Gatilov: Someone suggested that I open an account — which I did in late 2011 — although I had already started thinking about doing so myself. In the era of the Internet, social networks are virtually everywhere. Just think of it: nearly all companies, politicians and public figures have accounts in social networks.
Many of my friends experimented with Twitter, and I was keeping an eye on them before I finally created an account.
KV: Do you handle your account yourself, or are there several special people for this?
G.G.: I handle my account and retweets personally. I occasionally ask my assistants to translate some of my tweets into English — so that considerably more people will read them — or post links and pictures.
KV: How do you benefit from your presence on Twitter, and what role do you think social networks play in international politics?
G.G.: Twitter enables me to share my opinions on a whole host of foreign policy issues, using a language that is different from that of official comments. Social networks are the zeitgeist of the 21st century: you can't have the present-day world without them.
Take the "tectonic" events that have shaped the course of world events recently. The Arab Spring is a perfect example. It is often referred to as a Twitter revolution, to indicate the importance of incredibly fast dissemination of information in the modern world [that is] capable of shaping global processes.
Another important aspect is that journalists often ask me to comment on events. It is easy to give a short comment using Twitter. A tweet is quoted by the media and posted in both electronic and print media. This facilitates a real-time response to global developments.
KV: You have almost 2,500 followers, but only 13 friends. Do you read other people's tweets?
G.G.: I do. If you take a better look at my "friends," you'll see that, combined, they provide a great deal of information that — together with links — takes rather long to process.
I use Twitter to get updates that I can't get anywhere else, or because the info is more laconic and specific. Sometimes I have too little time to read full stories, and the value of Twitter is that it presents essential details focusing on what is truly important.
KV: Is it hard to fit your comment into 140 characters?
G.G.: It can be a challenge, especially when you feel you need to add some shades of meaning. I guess you have to practice to get the hang of it.
By the way, not all diplomats make interminable speeches; I know many who are capable of making themselves clear and easy to understand using a few words.
I always seek the perfect balance between the essence of the message and official parlance, staying, of course, within the fundamental foreign policy course of the country. I never forget that having a following on Twitter is a reversible process, and it is easy to lose a follower. That's why I need to keep meeting high standards. Judging by the number of followers, I'm managing to keep them interested.
The interview is first published in Russian in Kommersant Vlast magazine.
All rights reserved by Rossiyskaya Gazeta.