Criminal case against opposition activist Navalny forwarded to court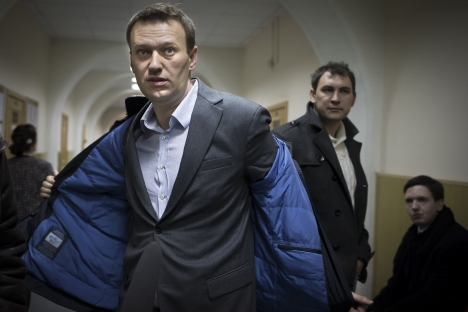 Russian opposition activist Alexei Navalny prepares to speak to journalists outside a courtroom in Moscow, Russia, Wednesday, March 13, 2013, after his appeal against the country's top investigative agency was rejected. Source: AP
Despite growing concern after criminal charges against the prominent opposition activist were sent to court, Alexei Navalny says he is going to continue his anti-corruption activity.
A criminal case against prominent opposition activist Alexei Navalny and businessman Pyotr Ofitserov, accused of embezzlement, has been forwarded to court.
"The case, including an authorized indictment, has been forwarded to the Leninsky District Court in the Kirov Region," a spokesperson for the Investigative Committee told Interfax on Wednesday.
The investigation found out that Navalny, serving as an advisor to the Kirov region governor, organized the embezzlement of Kirovles property in collusion with Ofitserov, the director of the Vyatka Forest Company, and Kirovles General Director Vyacheslav Opalyov. In particular, the defendants stole over 10,000 cubic meters of timber belonging to Kirovles from May to September 2009.
"Thus, the Kirov region was caused damage worth more than 16 million rubles ($ 520, 000)," the spokesperson said.
The case has been investigated by the Investigative Committee's main investigations department. Navalny has been accused of organizing mass embezzlement of somebody else's property and Ofitserov of complicity.
Investigative Committee spokesman Vladimir Markin said earlier that Opalyov had pleaded guilty and concluded a plea agreement with the investigation, and therefore a criminal case against him had been separated from the case against Navalny and Ofitserov. A court later found Opalyov guilty.
Navalny said on Wednesday that the anti-corruption foundation that he has set up would continue its activities if he is convicted in the Kirovles embezzlement case.
"I know for sure that, even if I get locked up, nothing will come to standstill. There is our foundation, and it keeps operating, there are people who work in it. They will continue to do so, and I think it will just give them an extra stimulus to do it," Navalny told Interfax.
He said that he had been amazed when the case had been put before the Prosecutor General's Office just a day before.
"What happened there [at the Prosecutor General's Office] today is an amazing story. The criminal case comprises 30 volumes, but it took one day to read it, approve it and send it to Kirov. This means that, of course, they want to have a sentence as soon as possible.
The information in this section is provided by the Interfax news agency and is intended for personal use only. It may not be reproduced or distributed in any form without express permission from Interfax. To request permission to republish, email: ifaxru@interfax.ru
All rights reserved by Rossiyskaya Gazeta.