Putin's war on corruption enters new phase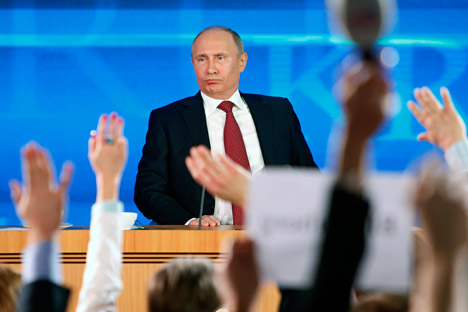 Russia's authorities have long realised that rampant corruption is threat Number One to the economy. Source: AP
Since beginning of clampdown, large-scale embezzlement schemes uncovered at major government agencies and state-owned companies.
Last February, President Vladimir Putin submitted a bill to the State Duma prohibiting government officials from holding foreign-issued securities or bank accounts abroad. The bill is expected to be yet another step in the Russian government's crusade against corruption.
The president's bill comes as a result of a public and parliamentary discussion about corruption within the state apparatus. The bill would extend a ban on holding foreign bank accounts to all public servants, including Central Bank Board of Directors members, officials of constituent entities of the Russian Federation and functionaries of state-owned corporations. Government officials will not be able to open bank accounts abroad even to pay for education or medical expenses, yet they will be allowed to own foreign real estate – provided they report it in Russia. Violators will be punished, potentially by being discharged from office.
Experts polled by RIA Novosti agreed that the bill would be an important milestone in the fight against corruption. They believe the document is preventive rather than prohibitive or repressive in nature. "This is an important part of the anti-corruption package of President Putin's electoral programme currently being implemented … It's very important for our elites to become more disciplined and responsible now, to purge themselves. The passing of this bill and enactment of the law will realise this", Associate Professor of the MGIMO Political Theory Department Yan Vaslavsky said.
Before that, on January 1, a Law "On Control over Correspondence between Spending by Persons Employed in Civil Service Positions and Other Persons and Their Income" came into effect in Russia, making it mandatory for government officials to report income and spending of their family members. Misrepresentation or a mismatch between income and spending will entail dismissal and transfer of the case to prosecutors for investigation.
Lawmakers hope these measures will reduce the scale of abuse not only by federal but also by municipal officials, as well as by employees of state-owned corporations.
Chairman of the State Duma Ethics Committee Vladimir Pekhtin became the first victim of the presidential bill. He had to vacate his seat voluntarily after it came to light that he had failed to declare a Miami condo worth several million dollars. At least two senators are planning to leave the Federation Council, the upper chamber of parliament, for similar reasons.
Russia's authorities have long realised that rampant corruption is threat Number One to the economy. A Law "On Combating Corruption" was passed in 2008. Putin declared the fight against corruption to be one of his priority tasks after he returned as head of state in 2012.
The fight against corruption heated up in mid-autumn last year. A real anti-corruption wave arose literally within weeks. It kicked off with high-profile corruption scandals implicating various government agencies and state owned companies. The Ministry of Defence came first. As a result of an investigation, Minister Anatoly Serdyukov lost his job and was questioned as a witness in a case involving illegal sales of military-owned real estate, resulting in 4 billion roubles (more than $130 million) in damage. Next was a case of embezzlement of funds appropriated by the Ministry for Regional Development for construction of facilities for the APEC summit in Vladivostok. Former Deputy Minister Roman Panov wound up in prison. Soon afterwards, OAO Russian Space Systems, the company responsible for building the GLONASS satellite positioning system, found itself at the centre of a scandal after it was discovered that 6.5 billion roubles (more than $210 million) had been transferred to fly-by-night company accounts.
The Russian media have been active in covering the fight against corruption. During 2012, the Ministry of Agriculture, the Ministry for Regional Development and the Ministry of Communications, as well as the federal agencies Roscosmos, Rostelecom, Roshydromet, Rosimushchestvo and Rosatom became the focus of media attention. Each case revealed names of government ministers or high-ranking federal officials and amounts of stolen public funds.
Society at large is becoming increasingly aware of the results of the anti-corruption drive. According to the All-Russian Centre for Public Opinion Research, 36 percent of the polled noticed them in 2007, whereas 45 percent did so at the end of 2012.
All rights reserved by Rossiyskaya Gazeta.