Russian authorities search for Berezovsky's assets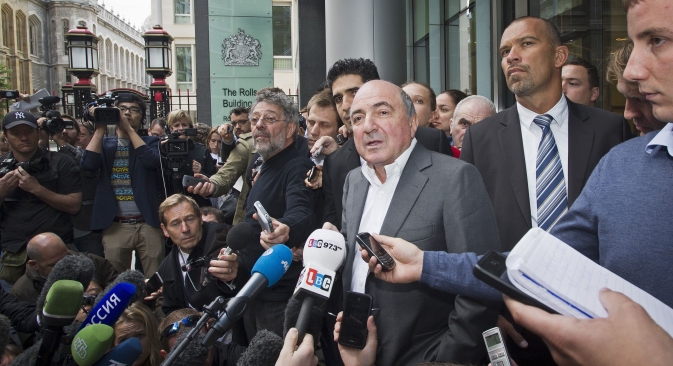 Russian oligarch Boriz Berezovsky speaking to the media after his trial with billionaire Roman Abramovich in London. Source: Rex Features / Ben Cawthra
The Russian Prosecutor General's Office seeks compensation of damages from the deceased tycoon's criminal cases.
The Russian Prosecutor General's Office will continue its efforts to search for and recover the money and assets of Russian businessman Boris Berezovsky, who recently died in Britain. Several billion rubles are at stake for damages that were caused by the businessman and revealed during the criminal cases against him.
Russia's Deputy Prosecutor General Alexander Zvyagintsev has explained his agency's position on the death of Boris Berezovsky — a tycoon who was implicated in several criminal cases in Russia that resulted in court rulings for various bonds. The Deputy Prosecutor General said that the death of the tycoon, against whom several charges are still pending (he had already been convicted on others), will not deter the supervisory agency from seizing his assets and money.
The Prosecutor General's Office noted that the businessman "was charged with some serious economic crimes perpetrated as a member of a transnational criminal community."
Because the Russian Criminal Code provides for the "confiscation of property for organizing and taking part in a criminal community," the Prosecutor General's Office will continue actions "aimed at bringing back to our country the assets criminally acquired by Berezovsky and his associates and legalized by them abroad."
The Prosecutor General's Office did not specify exactly what property may be seized in the near future.
For example, a Moscow court ordered the seizure of Boris Berezovsky's New York apartment in 2010, although American authorities did not impose the arrest.
The order to detain Berezovsky's two yachts (estimated at $17.9 million) and villa in France was later lifted. In April 2012, the Prosecutor General's Office announced that €13 million ($16.6 million) worth of Berezovsky's property in Europe had been arrested, though the agency did not specify the nature of the assets.
In addition to the Prosecutor's Office, the administration of the Samara region has laid claims to the deceased businessman's assets and money. The administration confirmed to Kommersant that it had no intention of retracting the lawsuit it had filed with the High Court in London.
The lawsuit is connected with a criminal case that involved the theft of more than 2,000 cars during an official, mid-1990s operation, in which the regional administration and Boris Berezovsky's companies LogoVAZ and AvtoVAZ were involved.
In June 2009, the court that heard the case convicted Boris Berezovsky "in absentia" of fraud and money laundering. Taking his previous convictions into account (by that time Boris Berezovsky had already been convicted "in absentia" on charges of embezzlement at Aeroflot), the tycoon was sentenced to a total of 13 years in jail.
Boris Berezovsky left for London in 2001, after claims were placed against him by Russian law-enforcement agencies. A total of 13 criminal cases had been opened against Berezovsky; charges on two of them have been dropped, and he was convicted "in absentia" on two other charges.
In total, Berezovsky is charged with causing damages of more than 3 billion rubles (over $100 million).
This article is a combined report based on materials from Kommersant and Izvestia.
All rights reserved by Rossiyskaya Gazeta.