Indo-Russian partnership in post-2014 Afghanistan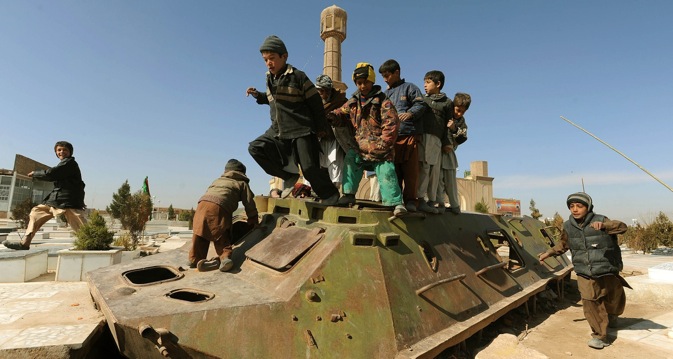 A stable Afghanistan will help materialise such ideas as the North-South corridor, linking India's north to Russia's south. Source: AFP/East News
In a post-NATO Afghanistan, it is pertinent to explore what role Moscow and New Delhi can play towards peace and stability in the country.
Peace and stability in Afghanistan are major concerns for the international community because whatever happens in the war-torn country impacts the world. Religious extremism, internecine ethnic rivalries and drug trafficking are some of the issues which have not only created instability within the country, but also affected neighbouring countries and beyond in Eurasia. The presence of the NATO-led International Security Assistance Force proved unable to address these issues effectively. Though it could topple the Taliban from the power in 2001, its current engagement with the same Taliban which it drove out from power reflects a paradox, and brings into focus that the post-NATO Afghanistan will witness, at least for years, periods of instability, dogmatism and violence. This will be a period where the Taliban will be a major force. In this complex situation, it is but pertinent to explore what role the other players particularly Russia and India can play towards peace and stability in the country.
It is a different debate as to whether NATO's departure is good or bad for the country, but one thing that can be commonly agreed upon is that the NATO forces despite a presence of thirteen years could not establish peace and stability in the country. Afghan President Hamid Karzai finds himself in a vulnerable position and tries to reconcile with the redoubtable Taliban, to which he was a strong opponent few months back. Karzai during his current visit to Doha perhaps made a prudent sense of exploring the prospects of dialogue with the Taliban, which was till the other day the pariah. The Taliban group has never declared that it has given up violence; rather it has formed its own shadow government with a radical agenda.
Drug trafficking is another growing menace and records suggest that the poppy cultivation has grown significantly in recent years. And the areas bordering Pakistan have become paradise for extremists from all over the world – from Central Asia, Caucasus, East Asia and other regions. In this backdrop, some analysts might expect that NATO could have played a more effective role towards establishing peace and stability in the country before its departure next year. Sergei Koshelev, head of the Russian defence ministry's international cooperation department argued that "any escalation of the situation in Afghanistan after NATO troops pull out in 2014 could have a negative impact on the security of both Russia and other European nations."
A few days back, Russia announced that it would be establishing maintenance facilities in Afghanistan to service the weapons in the country, which are of Soviet/Russian origin. Koshelev argued, "It is important to maintain the weapon systems and military equipment of the Afghan armed forces in a serviceable state." There are also prospects that negotiations may start with NATO in this direction even before its departure. Russian MP Sergey Zhigarev observed that "In any case this (Russia-NATO cooperation) is a positive moment." The NATO forces have used the Russian weapons including helicopters and are still ordering them from Russia. Russia too has agreed to offer one of its bases in Central Asia for supply of logistics to NATO forces from Europe.
There is an increasing sense that Russia's involvement in Afghanistan will be more of collaborative, economic nature than purely military nature. In a globalised world, economic cooperation makes more sense than military intervention. Russia has reportedly received many offers from Afghanistan for investment in areas like geological survey, oil exploration, development of water resources and building metro in Kabul. Given the opportunities and potential, Moscow is exploring options for investment in the country. Russia can help Afghanistan in building its infrastructure, including rail and power networks, and exploration of natural resources, and train its forces to handle drug trafficking and religious extremism. There is a palpable fear that in post-2014 Afghanistan the trained extremists might spread to neighbouring regions to spread religious extremism. A Russian presence in Afghanistan can help restrain these forces. Russian Ambassador to Afghanistan Andrei Avetisian said recently: "We are especially concerned over the deterioration in northern Afghanistan, in provinces bordering our friends and allies - the Central Asian republics. The penetration of terrorism and drugs from Afghanistan into the north, naturally, directly concerns our national security."
India and Russia together can accomplish many positive things in Afghanistan. Recently, the Vice President of ONGC, M. K. Nair declared that "We are ready to discuss the details (about the construction of an oil pipeline from Russia to India) with the Russians. The project is economically beneficial to both India and the Russian Federation. Moreover, it will benefit Afghanistan and Pakistan, and when economic prosperity is on the table, differences tend to be forgotten." The head of the Eurasian department of the Indian ministry of external affairs Ajay Bisaria observed that the pipeline is "one of several prospective projects that can significantly increase the volume of bilateral trade." Such a route will be the shortest one between the two countries. It is important that for this economic venture to be successful there should be political stability in Afghanistan. This further necessitates the cooperation between India and Russia to expedite the transition process in Afghanistan, and help establish a peaceful and stable regime. In April and May, there will be many high level visits between the two countries including India's External Affairs Minister, Home and Commerce Ministers visiting Russia and Russia's State Duma Speaker visiting India. These visits will further strengthen bilateral cooperation and coordinate policies on issues like Afghanistan.
A stable Afghanistan will also help materialise other ideas like the North-South corridor, linking India's north to Russia's south. It will be the shortest transport corridor between the two countries. Such a corridor will have multiple benefits for both the countries. Besides promoting trade and commerce, the route can be converted into a peace route and serve a barrier to the movement of extremists and drugs. A year ago, India and the Customs Union of Russia, Kazakhstan and Belarus held talks on a free trade agreement. For the success of the trade corridor, and for the free trade, a peaceful and stable Afghanistan is necessary. Such an eclectic economic project can also attract other regional players like Pakistan to join the grouping. Pakistan is a key factor to the stability of Afghanistan; hence its role and importance in any solution process to Afghanistan cannot be ignored. The India-Russia bonhomie in Afghanistan can in a later stage embrace Pakistan towards the greater objectives of peace, economic development and stability in Afghanistan.
Dr Debidatta Aurobinda Mahapatra is an Indian commentator. His areas of interests include India-Russia relations, conflict and peace, and strategic aspects of Eurasian politics.
All rights reserved by Rossiyskaya Gazeta.