Russians disapprove of bureaucrats' wealth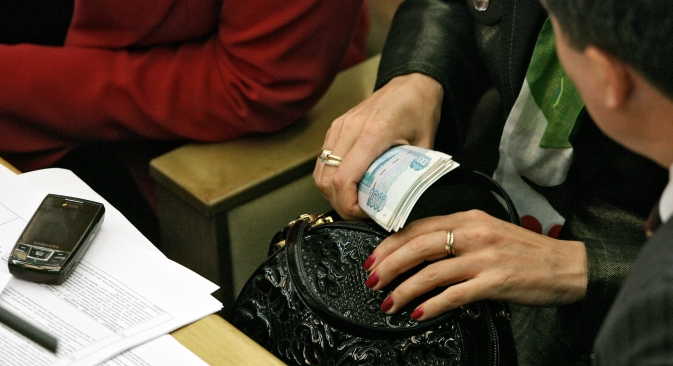 Russians are calling for lower salaries for government officials, which are often seen as distant and corrupt. Source: Kommersant
Opinion polls show that a majority of Russians are increasingly intolerant of the wealth of government officials – riches which they see as connected to the embezzlement of public funds.
Russians are increasingly intolerant of wealth among state officials and parliamentarians. Ordinary people not only consider a life of luxury for those officials to be indecent, but they also make a direct connection between high-paid government jobs and crime.
According to the results of a recent opinion poll conducted by the Levada Center, only 13 percent of all Russians consider it normal for a state official or Duma deputy to be wealthy. A third of the respondents (33 percent) called that situation indecent, while a majority (44 percent) called it criminal.
As for what makes a person as "rich" in the understanding of respondents, the poll did not say. However, according to the results of previous polls, a rich person is someone who earns at least 110,000 rubles a month (nearly $4,000).
Accordingly, an overwhelming majority of respondents (62 percent) favor establishing a cap on incomes for those who wish to work for the government. Respondents are convinced that lower incomes will make officials more in tune with the people. Another 20 percent added that all property should be declared, since a person with no business assets will presumably make independent decisions.
Denis Volkov, an expert at the Levada Center, called the results of this poll predictable.
"Russians have had the sense that the government is corrupt for years now," said Volkov.
Thus, the anti-corruption campaign of Alexei Navalny fell on fertile ground; he has been supported by other bloggers both at home and abroad.
"Only after that did the government react; now it has begun doing its own anti-corruption exposés," Volkov added.
The list of victims of these exposés is growing. Members of both chambers of parliament have been forced to give up their seats. Some are suspected of illegal business activities (Duma deputies Gennady Gudkov and Alexei Knyshov), while others are accused of hiding high-priced assets, including foreign real estate (Vladimir Pekhtin and Vitaly Malkin).
Ongoing investigations into the possessions of high-placed former officials in the Ministry of Defense are also proceeding apace.
"Russian citizens are firmly convinced that state officials and deputies do the work they do solely to line their own pockets," said Volkov.
"This undermines the authority of the State Duma, whose work no one sees as independent or free of the influence of the executive branch," he explains. "It's a vicious circle: On the one hand, people feel that corrupt officials should be exposed. On the other, they do not believe in the results of the anti-corruption campaign instituted by the government."
Vyacheslav Smirnov, director of the Institute of Political Sociology, believes that state officials are themselves responsible for the increasing dissatisfaction among rank-and-file citizens.
"In Russia it's not the rich we don't like – it's the rich who flaunt their money," he said. "State officials have no sense of proportion and are not ashamed of showing off their financial position."
Smirnov thinks that the first priority should be discouraging "accidental" people from entering government service – that is, people whose aim is to take advantage of their position rather than to serve the country.
All rights reserved by Rossiyskaya Gazeta.