Opposition leader Navalny announces presidential ambitions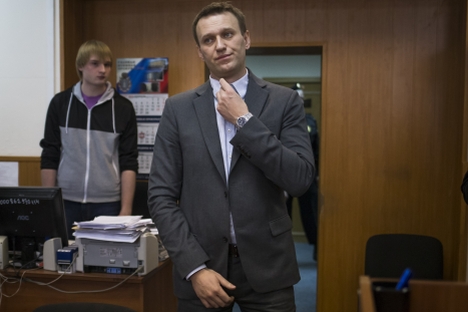 Russian opposition activist Alexei Navalny, center, listens to a judge inside a courtroom in Moscow on March 13, 2013, after his appeal against the country's top investigative agency was rejected. Source: AP
Anti-corruption campaigner and opposition activist Alexei Navalny says he plans to run for the Russian presidency. Some politicians suspect his motives.
Opposition activist and founder of the Anti-Corruption Fund, Alexei Navalny, said he intends to run for president of Russia in the future.
"I want to become president, I want to change life in this country," Navalny said late on April 4 on air on the Dzyadko 3 program of TV Rain (Dozhd) channel.
Navalny said that his main task was "for the millions of people who live in this country and for whom oil and gas flow from the ground, for them to not live in such poverty and hopeless mediocrity but to have a decent life as in European countries and not worse than Estonians."
At the same time, Navalny said he expected a guilty verdict on the Kirovles case.
"I have no doubt that the verdict will be guilty. Even with a suspended sentence on the guilty verdict, they [authorities] are solving many tasks of theirs, firstly, to prevent me from running for any office," Navalny said on air of TV Rain channel on April 4.
In accordance with Russian law, a citizen with a prior conviction cannot run for office.
"I am not afraid of any sentence. I, of course, have no wish to end up in jail but I have no wish to end up with a suspended sentence as well because any administrative violation will turn it into a real one," Navalny said.
It has been reported that the Kirov Leninsky District Court has scheduled the hearing of the Kirovles case for Navalny and Pyotr Ofitserov on April 17.
Investigators suspect that while he was an advisor to the Kirov region governor, Navalny conspired with Vyatka Timber Company LCC Director Pyotr Ofitserov and Kirovles General Director Vyacheslav Opalev to organize property theft from the Kirov region state unitary enterprise Kirovles.
Investigators think that over 10,000 cubic meters of timber belonging to Kirovles was stolen from May to September 2009 and the Kirov region budget suffered losses of over 16 million rubles (nearly $510,000).
The main investigative department of the Russian Investigative Committee handled the case. Navalny is accused of organizing large-scale property embezzlement while Ofitserov is accused of collusion under the Russian Criminal Code Articles 33 and 160.
Meanwhile, Russia's other opposition campaigners raise eyebrows on Navalny's chances to win the elections.
"Probably, his clever American or other foreign friends or other bright minds around him advised him to do this. He made a good chess move today," said opposition activist, writer and leader of unregistered party The Other Russia, Eduard Limonov. "Navalny made this declaration before the court to defend himself. You must admit that as a presidential candidate, Navalny sounds much more serious than just as a blogger."
"Probably, he already has no ambitions. He could have declared a year ago that he wanted to become president and it would sound convincing. And today it is just a gesture to defend himself. I would not seriously consider his abilities to become president. All this is aimed towards April 17, at the city of Kirov and at the world community," Limonov explains.
The article is based on materials from Interfax.
All rights reserved by Rossiyskaya Gazeta.