Russia to impose strict limits on "golden parachutes" to CEOs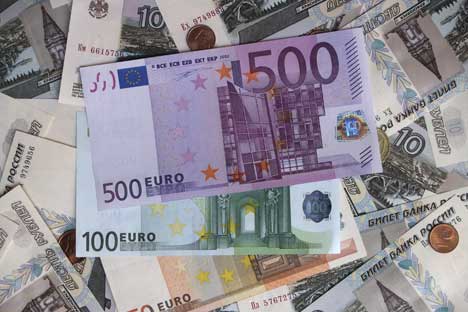 Colossal "golden parachutes" to top executives at state-owned companies give rise to popular irritation. Source: ITAR-TASS
The initiative to constrain compensations paid to top managers in the event of early termination of employment contracts came from President Vladimir Putin last week.
It looks like substantial benefits given to top executives in the event of employment termination, or the so-called "golden parachutes," will soon be dramatically reduced in Russia. At least, in state-run corporations.
Prime Minister Dmitry Medvedev put it quite clearly when he answered a question after his report to the State Duma lower parliament house.
"As far as companies that are controlled by the state are concerned, in fact we can make job termination compensations and salaries of top executives dependant on the real achievements of such companies," he said. Corresponding proposals are being drafted by the government, he noted.
The initiative to constrain compensations paid to top managers in the event of early termination of employment contracts came from President Vladimir Putin last week. It followed the resignation of the CEO of the state-run telecommunications company Rostelecom, Alexander Provotorov, who had received a termination benefit of 233 million roubles (about eight million U.S. dollars), including a "golden parachute" of 201 million roubles.
Generally, the term "golden parachute," refers to top executives only. Lower level managers are eligible to "silver parachutes," while all other employees can expect only "tin parachutes" in case of job termination when an individual is fired or made redundant. It is a general practice with Western private banks or companies, the so-called "fat cats," to pay weighty golden handshake to their chief executives and there is no way to constrain such benefits. In Russia however, "fat cats" usually breed on state-run companies.
Following the 2008-2009 crisis, the G20 Finance Ministers' and Central Bank Governors' Meeting endorsed recommendations on compensation, which also provide for strict rules on handshake, applicable however to top managers in the banking sector only. The Group of Twenty countries, including Russia, undertook to work out the structure of directors' remuneration and design and operation of the remuneration policy for directors to encourage a stronger link between pay and performance. But these recommendations were not legally binding offering each country full flexibility in such matters.
With an abyss between the rich and the poor, of which the name is legion, colossal "golden parachutes" to top executives cannot but give rise to popular irritation. The sums of such handshake are beyond common sense, and the government cannot keep aloof from this problem.
Russia's most famous "golden parachutes" were paid to Vladimir Strzhalkovsky of Norilsk Nickel, who received a job termination bonus of 100 million U.S. dollars, Alexander Rodnyansky of CTC Media, who received a compensation of 25.9 million U.S. dollars, Denis Morozov of Uralkali, whose handshake payment was 220 million roubles, or 7.5 million U.S. dollars, and Kuzma Marchuk also of Uralkali, who left his post of the company's vice president with a bonus of 80 million roubles.
Private companies are free to pay their CEOs as much as they think is good. Hence, it will not be easy to set legal limits on handshake payments in such companies, since criteria applied to different companies should differ as well, the Novaya Politika web publication cites Valentin Mezhevich, the first deputy chairman of economic policy committee of the Russian Federation Council upper parliament house.
Another expert, Yulia Borozdna, the head of Pepelyayev Group's labor and migration law department, says she sees no problem in legislative regulation of this issue. Russia's current Labor Code sets a lower limit for lay-off pays, so, she says, it is quite possible to set an upper limit of severance payment as well.
Pavel Kudyukin, an associate professor of the Higher School of Economics' state administration department, also cited by the publication, shares the opinion that such an initiative is easily implementable from the technical point of view. "There are two options: either to pass a law regulating termination bonuses to top executives, or to do it via state representatives on boards of directors in each particular company. The main thing is to have political will for that," he said. Moreover, he noted, subject to reduction should be not only "golden parachutes," but also end-of-year bonuses paid to senior executives.
However, there might be a risk that being deprived of their handshake when leaving a company, "resentful" CEOs might seek to avenge themselves selling confidential information to rivals, warns Professor Alexander Abramov of the HSE stock and investment market department.
There is another aspect to the problem. Companies need such "golden parachutes" to attract and keep talented managers, Darya Pichugina, an Investcafe analyst, told the REGNUM agency. But it is only in Russia that such lucrative bonuses are paid at state-owned companies. No wonder it irritates and angers people.
First published in ITAR-TASS.
All rights reserved by Rossiyskaya Gazeta.