Russian legislators unhappy with Apple's dominance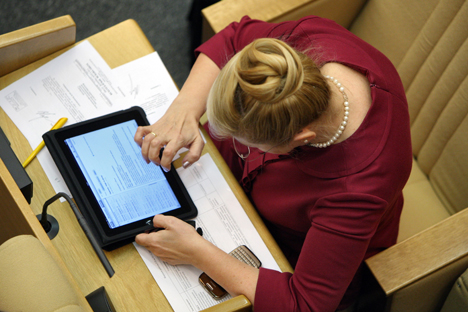 Special app on IPad allows deputies to view documents and comment on their colleagues' proposals. Source: Kommersant
Officials complain about being unable to use Android gadgets for work.
State Duma deputies are outraged with the executive office of the lower chamber for virtually forcing them to use Apple tablets and phones for work.
The Dumasoft application, released by the State Duma's executive office to streamline the work of the deputies, can only be downloaded to iPhones or iPads, with no Android version available for mobile device users. A few deputies wrote a request addressed to Speaker Sergei Naryshkin, asking him to deal with this inconvenience.
"Dumasoft does not support the Android operating system, while not all deputies are willing to buy iPhones and iPads," a co-author of the request told Izvestia.
The new software was deployed in the fall of 2012, after Naryshkin had personally insisted that deputies needed to have the ability to work anywhere an Internet connection was available. The Dumasoft application allows deputies to view documents and correspondence, alter bills and comment on their colleagues' proposals.
Yury Shuvalov, deputy head of the State Duma executive office, confirmed that the administration of the lower chamber was fully aware of the problem and looking for ways to solve it.
"We will certainly issue apps for other operating systems. I think this could be expected before the end of the year," said Shuvalov.
According to Nikita Kislitsin, editor-in-chief of Hacker magazine, Apple devices are traditionally the choice of the well-to-do. Thus, it is no surprise that the State Duma executive office did not expect any opposition to the gadgets from the Duma deputies, whose average annual income hovers around 2 million rubles ($63,100) per person.
In addition, the State Duma thought that it could go easy on software developers in this case, an expert in Internet technologies, Ilya Knopov, added.
"Apple has just one platform for which new apps can be developed," said Knopov. "It's more complicated in the case of Android, so the development would cost more."
First published in Russian in Izvestia.
All rights reserved by Rossiyskaya Gazeta.