New Russian law bans foreign bank accounts for officials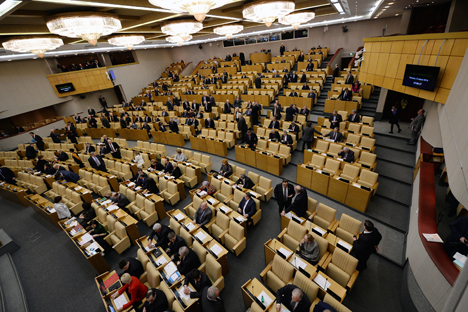 Public servants are still permitted to own foreign property, but they must disclose the source of income for these purchases. Source: Alexey Filippov / RIA Novosti
The lower house of the Russian parliament has passed into law a bill banning top-ranking state officials, public servants, State Duma representatives and Federation Council senators from owning foreign bank accounts and foreign-issued securities.
The bill was passed in the third and final reading by Russia's State Duma and will be enacted as soon as it is signed by President Vladimir Putin.
The ban on foreign bank accounts will apply to a wide range of Russian public officials: all federal- and regional-level public offices appointed by the president, the government, or the prosecutor general; deputy prosecutor generals and members of the Central Bank board; deputy positions on federal executive bodies, state corporations, funds and other organizations governed by federal legislation and whose officials are appointed by the president or government; judges, parliament representatives and Federation Council senators.
The ban will also apply to candidates running for elected offices, including candidates for the Russian presidency, top executive posts in Russian regions, seats in regional parliaments and the Federation Council, and elected offices in municipalities.
Also affected by the ban will be: military servicemen, investigators and prosecutors; personnel of the Interior Ministry and Customs and Tax services; officers of extra-budgetary funds and the Audit Chamber; and heads of municipalities. The ban will extend to the spouses and underage dependents of officials in all the aforementioned categories.
Personnel of the abovementioned offices must either comply with the requirements of the new law within three months or vacate their current positions. Failure to comply will result in dismissal or an early termination of the offending individual's office.
In addition, the bill introduces the concept of "foreign financial instruments," which covers all types of foreign-issued securities and their derivatives.
As far as foreign property is concerned, public servants and Duma deputies are permitted to own such property, but they must disclose the source of income used for these purchases.
"If a person keeps money abroad, and its amount is significant, they are always dependent on the state system their money is kept at," Putin said during his live phone - in with the nation on April 25.
He noted that public servants represented a special category of citizens; they must therefore choose between their desire to keep assets abroad and their desire to serve the Russian public.
Putin stated his belief that the ban is well-justified, although certain liberal experts criticize it as being over the top. As Putin pointed out, though, other categories of Russians are free to keep their assets in jurisdictions of their choice.
"The direct ban [on foreign bank accounts] does not imply a limitation of rights; rather, it indicates that the high status carries considerable obligations," Duma deputy Irina Yarovaya, head of the State Duma Security and Anti-Corruption Committee, told journalists.
According to Yarovaya, it is "very important for the interests of the national elite not to be influenced by the strategic competition, for those people who make decisions in the interests of the country's development to remain independent from the interests of other countries, be bound by any obligations, or find themselves under pressure due to their personal, commercial, or other interests."
First published in Russian in RIA Novosti.
All rights reserved by Rossiyskaya Gazeta.