Dmitry Medvedev sums up his first year as Prime Minister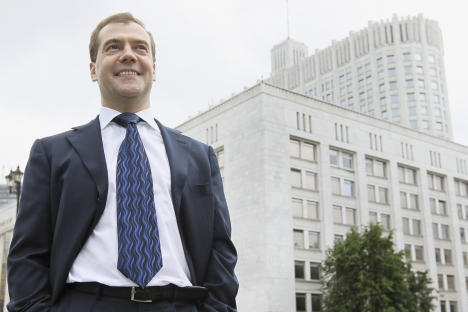 'Dimon' (pronounced dee-MON) is a pet name for 'Dmitry.' Many Russian-language users of the internet have referred to Dmitry Medvedev that way in forums and other venues. Source: Reuters
May 21 marked the one year anniversary of Dmitry Medvedev's tenure as Prime Minister. RBTH offers key excerpts from an interview he gave to daily Komsomolskaya Pravda.
1. Tough job
Medvedev admitted that his first year in office has been quite hard. "The government is a machine that works 24/7: it processes and issues enormous quantities of regulatory documents; it manages the economy and addresses the everyday problems of the entire country."
2. Economic dip around the corner?
Medvedev said that an economic slump is just a matter of time; even so, the country should strive to avert a real rather than just technical recession. "I'm positive that there will be no crisis like the one we had in 2008-2009. There's no need to stock up on canned meat, soap, matches and salt. Yet there's no doubt that we are in a very tight international economic situation."
3. Supporting scientists, engineers
"We have worked out a way to support university graduates pursuing a career in science. The program provides substantial grants but we also need to offer housing. We need a special public mortgage program and have universities or the Academy of Sciences earmark money for this. The same holds true for engineers."
4. Austerity
"Each state agency must give up at least 5 percent of the budget-financed purchases they need in order to function. On a nationwide scale, billions of rubles will be saved. This is a crucial austerity measure."
5. Back to daylight savings time?
Medvedev is concerned that half population of Russia will misinterpret the decision to change to winter time. "Discussions are still underway. Studies have shown that around 50 percent of the people wish to return to the old system, whereas 50 percent want to retain the new one."
6. Immigration
Medvedev said Russia cannot do without immigrants in the near future and a better system should be developed to manage this.
"I recently visited an immigration center in Nizhny Novgorod and was surprised at how many people from developed countries come to work in Russia: hundreds of thousands of people from Germany, the Netherlands and the UK. These are not tourists, but people seeking work visas and employment in Russia. This means that our country attracts even those who have decent wages in their home countries."
7. Investing sovereign wealth fund abroad
"Our country is highly dependent on oil and gas, so we invest in highly reliable instruments that are well protected and are not subject to volatility risks."
8. WTO
"The advantages of the WTO are not that they will treat you to a piece of cake on a plate but that that we abide by universal trade laws and our products will meet the requirements currently effective in the WTO member-states: not yet but in a year or two, or three, or five. And we will be able to manage the costs."
9. No cabinet reshuffle
Asked whether there were any ministers he was ready to part with, the Prime Minister said: "Ones I'm ready to sacrifice? There are none… The government is a team. I nominated them all and the President supported them all. I'm responsible for them. If I believe that a person is a good worker, I will stand by them."
10. Ban on foreign assets for government officials
"If you live in and manage Russia, you should be responsible for the economy and understand that your money depends on the way you manage it […] Our goal is not to oust well-off people from the government (including regional and municipal authorities) or parliament. We welcome successful people as ministers and MPs, not people who have hidden something and are saying: everything's fine, thank you, we earn just a few coppers."
11. No shame in being called 'Dimon'
'Dimon' (pronounced dee-MON) is a pet name for 'Dmitry.' Many Russian-language users of the internet have referred to Medvedev that way in forums and other venues. "They refer to ministers, prime ministers and presidents by their first names in many countries. It might be different at certain protocol events but almost anyone can call them by their first names. In Russia, we have different traditions, though."
12. Like father, like son
Dmitry Medvedev's son, Ilya, recently began studying international law at Moscow's prestigious MGIMO university. "For obvious reasons, children of top-ranking officials have to deal with some special difficulties. But it is very important for me that my son feels like a regular guy. He's a normal student."
All rights reserved by Rossiyskaya Gazeta.