Ex-Kremlin ideologist Surkov declines offer to run Chechnya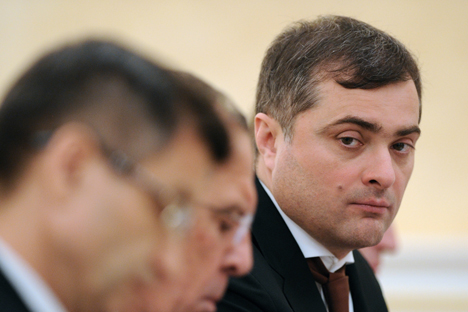 Despite resignation, Surkov remained in President Vladimir Putin's team. Source: ITAR-TASS
Vladislav Surkov called the offer "very interesting," but did not accept it. Vladimir Putin's press secretary Dmitry Peskov, meanwhile, called the offer "absurd."
Former deputy prime minister Vladislav Surkov, who resigned earlier this month after more than a decade as the Kremlin's chief ideologist, said he was looking for a job – but did not accept an offer from Chechen strongman Ramzan Kadyrov.
"I'm walking around, looking for work. I have a lot of offers, I'm choosing [from them]. You can't just agree to the first one," Surkov told journalists in Skolkovo on Tuesday, where he was seen with Prime Minister Dmitry Medvedev, RIA Novosti reported.
One of those offers had earlier come from Chechen leader Ramzan Kadyrov, who reportedly offered Surkov his own job.
"I would gladly give up my position as head of the republic and would support him in an election," Kadyrov was quoted by RIA Novosti as saying during a meeting on Tuesday with Russian editors. Kadyrov added that Surkov remained in President Vladimir Putin's team, because "Putin needs strong people because he's strong himself."
Surkov called the offer "very interesting," but did not accept it. Putin's press secretary Dmitry Peskov, meanwhile, called the offer "absurd."
"It's completely absurd to call this an offer, it's more like a play on words," Peskov said in televised remarks carried by the independent Dozhd cable channel.
Photos of Surkov and Kadyrov fishing together in Chechnya were posted on Kadyrov's Instagram last week. Kadyrov has called Surkov, who is half-Chechen, his friend and "brother."
Surkov's comments, meanwhile, were the most candid since he resigned May 8. Officially, his departure was linked to Putin's criticism of the government over failure to implement his election promises. But others tied Surkov's resignation to his support of opposition figure Ilya Ponomaryov, who himself was caught up in a fraud probe at Skolkovo, where Surkov remains a member of the Board of Trustees.
Medvedev explained on Tuesday that Surkov accompanied him on Tuesday to Skolkovo's Startup Village conference because he was still a member of "various councils."
First publsihed in The Moscow News.
All rights reserved by Rossiyskaya Gazeta.