Moscow allows opposition protest march on Russia Day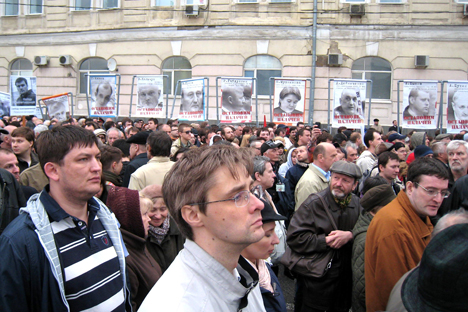 The protest is said to be organised by a number of opposition activists and supported by the Russian Opposition Coordination Council. Source: Yulia Ponomareva
City authorities have "agreed in principle" with the plan of the so-called 'March against executioners'.
Moscow authorities have approved the 30,000-strong protest march proposed by Russian opposition groups. Scheduled for June 12, it is timed to mark the start of the trial for Bolotnaya Square case suspects and coincides with Russia Day celebrations.
The authorities have "agreed in principle" with the plan of the so-called 'March against executioners', Interfax said, citing the head of the Moscow City Security Department Aleksey Mayorov.
The opposition did not file any formal request for holding a public rally after the march, the authorities stressed.
According to the plan, the protesters will gather at the city's central Kaluzhskaya Square, and head towards Bolotnaya Square, which saw mass clashes with the police on May 6, 2012.
The June 12 march will be held in support of the activists facing charges in the Bolotnaya Square case, as well as the other 'political prisoners', the leader of the Left Front movement and member of the Russian Opposition Coordination Council Sergey Udaltsov tweeted.
"It is the first time since 2011 that the Mayor's Office has promptly, without long negotiations approved a protest march by the opposition," Udaltsov has noted.
The protest is said to be organised by a number of opposition activists and supported by the Russian Opposition Coordination Council.
A statement on the Facebook page coordinating the march said the choice of the date was deliberate, and that it is connected to the start of the trial for 12 suspects of the Bolotnaya Square case early in June. It also blasted the authorities, who, according to the opposition, are using the country's courts to jail "innocent men" for taking part in "mythical 'mass unrest'."
The 12 activists are facing criminal charges for "calling to disorders and taking active part in them" during the May 6 protest on Moscow's Bolotnaya Square. According to Russian Prosecutor General's Office, 82 police officers were injured as a result of the violent clashes on May 6, and the total damage has been estimated at over 28 million roubles (about US$900,000).
Meanwhile, the investigation into the case is ongoing, with 27 people involved in total, and 15 of them kept in pre-trial detention centres, according to RosUznik. The police have recently searched the homes of several opposition activists as part of an investigation.
First published in RT.com.
All rights reserved by Rossiyskaya Gazeta.