Russia against adoption by same-sex couples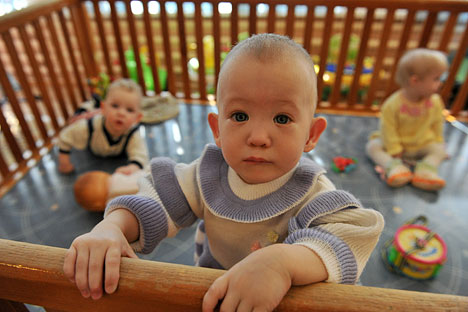 According to Russian officials, adoption by same-sex couples goes against "traditional Russian values." Source: RIA Novosti / Vladimir Pesnya
Senior politicians have spoken out against adoption of Russian children by gay couples overseas. An official ban is likely in the near future.
Recently France allowed same-sex couples to marry and adopt children with French President Francois Hollande signing the gay marriage bill into law on May 18. This decision was viewed negatively by Russian officials.
One of the first negative reactions came from Russia's ombudsman for children's rights, Pavel Astakhov. He said on May 30 that Moscow should impose a moratorium on adoptions by French citizens: "It is evident that a moratorium should be imposed until [both countries'] legislation is brought into accord. This is logical."
Astakhov's position was supported by Alexei Levchenko, an aide to Olga Golodets, Russian deputy premier overseeing social issues. According to Levchenko, foreign same-sex couples will be officially banned from adopting Russian children. "In accordance with the Russian Family Code, same-sex couples are barred from adopting children. Most likely, courts won't authorize such adoptions without any additional legislative acts. However, an additional amendment will be passed, stipulating that adoptions are possible only for two-parent (traditional) foreign couples," Levchenko said on June 1. Golodets added that French law runs against the rules, the traditions of the people of Russia.
Russian President Vladimir Putin said on June 4 that he will sign a law banning adoption of Russian children by foreign same-sex couples if parliament passes such legislation. "So far, I have no such bill, I have not seen this. But if such legislation is adopted by the country's parliament, I will sign it," he said.
Last month Putin warned that Russia could change its adoption agreements with countries that allow gay marriage, which goes against "traditional Russian values." The same thoughts were told by the head of the Russian Orthodox Church, Patriarch Kirill. He considered the legalisation of homosexual marriages in France one of the attempts to "deny God's truth". He called on Christians to courageously resist the destruction of traditional values. He said more and more people should realise that it "is impossible to come against God's power because only temporary victories can be won on this path".
On June 5, Yelena Mizulina, a member of the A Just Russia party who heads the State Duma's Committee on Family, Women and Children, said the State Duma may approve an amendment banning adoption of Russian children by foreign same-sex couples before the summer recess begins on July 6.
The amendment to the Russian Family Code, if passed, will ban the adoption of Russian children by foreign citizens, persons without citizenship and Russian nationals permanently living abroad, who are in a same-sex marriage.
"In addition, the ban will also be applicable to single foreigners from countries where same-sex marriages are permitted by the law, as well as stateless persons and Russians who permanently reside in these countries," Mizulina told RIA Novosti.
As for common people, Russians generally supported the state in this question. Polls held by the independent Levada Centre in March found that 85 percent Russians opposed same-sex marriage.
Based on RIA Novosti, ITAR-TASS, Interfax, Daily Mail.
All rights reserved by Rossiyskaya Gazeta.