Surgeon General gives Putin a clean bill of health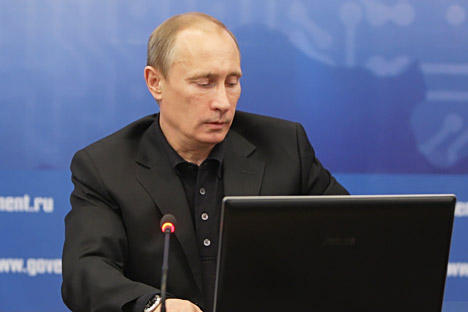 Any questions regarding Putin's health are nothing more than rumours that have nothing to do with reality. Source: RIA Novosti / Alexey Druginyn
After months of media speculation on the Russian president's health, the Kremlin's chief physician says Vladimir Putin is in excellent shape.
The Russian president's personal physician told the media that "from a medical point of view, Vladimir Putin is considerably younger than his years," and that he demonstrates an excellent capacity for work. Experts believe that the statements were made in response to rumours that the head of state had been suffering from health problems.
"He (Putin) is a very athletic individual. From a medical point of view, Putin is considerably younger than his years. His sporty lifestyle contributes to an excellent capacity for work," said Deputy Manager of the Presidential Department, Surgeon General and Honoured Doctor of the Russian Federation, Sergei Mironov in an interview with the magazine Itogi.
Mironov explained that the Russian leader dedicates a lot of time to swimming. "I believe he uses swimming as a way to deal with stressful situations, more so than anything else.
"Mr Putin is quite sceptical about taking any kind of medicine, even if it's your run-of-the-mill cold tablet. He prefers natural remedies – tea with honey, a sauna and a massage," the doctor added.
The Surgeon General also noted that, despite the fact that the president practices judo – not the safest of sports – he has never suffered any serious injuries. "To be fair, it's not uncommon for the media to exaggerate somewhat the medical histories of our country's leaders. There were rumours going round not long ago that Putin was having problems with his back. I don't see any reason to hide information about the health of our president, but there is also a thing called medical ethics. If I underwent an operation on my spine, for example, then I'd tell you about it myself."
Cardiologist Alexander Sharandak said in an interview with Kommersant that physical exercise and traditional medicine could only be beneficial for Putin. "If you are 60 years old and live a healthy and active lifestyle, then that is a very good thing. It's only when you overdo it that problems can arise," Sharandak said. "But if you engage in some kind of physical activity for an hour or an hour-and-a-half every day, then that's very beneficial… I'm sure that his cardiovascular system is in perfect working order … Looking at his physical condition, I think that natural remedies are all he needs. He moves like a young man, and there's nothing wrong with his gait. How does he look? I've not seen him up close, but I've got to agree that he looks younger than 60."
Political PR specialist Andrei Zverev believes that the Surgeon General's comments were intended, above all, for the elite. "The question of the president's health is of vital significance, especially in Russia, where all the major political decisions are made by the head of state," Zverev said. "We are all aware that many people are talking about a supposed split among the political elites. This serves a definite signal that the centre of decision-making still lies in the presidential administration in the Kremlin, and that the person making those decisions is in excellent physical condition. Any questions regarding his health are nothing more than rumours that have nothing to do with reality."
Based on materials from RIA Novosti and Kommersant.
All rights reserved by Rossiyskaya Gazeta.