Moscow illegal immigrants also victims of exploitation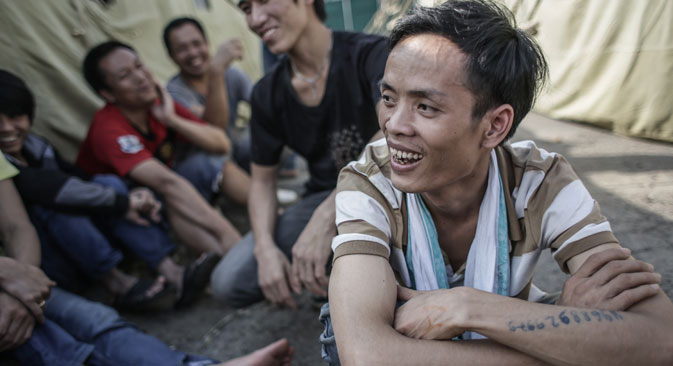 Raids against illegal migrants brought unexpected results. Source: RIA Novosti
A raid against illegal immigrants might have uncovered a much bigger problem. Human rights activists warn that many of the illegal workers at an underground factory discovered in Moscow were in fact slaves and call for criminal proceedings against their exploiters.
Human rights activists believe that a roundup of illegal immigrants carried out in Moscow has revealed a much more serious issue in the country: slavery. They are calling on the government to send the former slaves back home as soon as possible, and to lay criminal charges against the businessmen involved in this exploitation.
Inspections conducted in the very problematic Golyanovo district, in the eastern part of Moscow, uncovered an underground factory with hundreds of illegal migrants, mostly from Vietnam. The reception center where people are usually kept before deportation could not fit them all. Therefore, the authorities had to set up a tent camp for 900 people.
Human rights activists have quickly come forward to assist the detainees. The temporary tent camp has a dry cleaner and a place for charging cell phones. Potable water and food are brought in for the people held in the camp.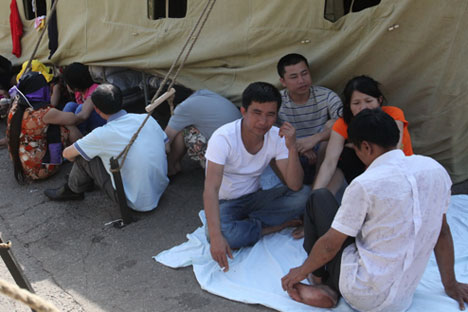 The temporary tent camp in the eastern part of Moscow. Source: ITAR-TASS
Human rights activists say that most of the detained Vietnamese workers are not just immigration law infringers, but also victims of illegal exploitation — in other words, they are slaves.
"I said it in the presence of all law enforcement agencies — this camp contains former slaves. They are victims. Now we need to interrogate them and initiate criminal proceedings against those guilty of slave labor use, not paying the laborers salaries and being involved in illegal businesses. Here we have plenty of information for a large criminal case. It is important to find the organizers, who have earned tens of millions dollars on these people," said Vladimir Osechkin, head of the Gulagu.net social network, an organization which assists prisoners in Russia.
The human rights activist believes that it is necessary to seize the property of the slaveholders, and that this money should be used to pay a compensation to the victims.
"It is obvious, that these people were not paid, and they were kept in unacceptable conditions. I have not seen a single investigator from the public prosecutor's office sent to the camp to tackle these issues. The fact that illegal immigrants are not interrogated, and that details concerning their work are not sought out, indicates the unwillingness by the authorities to conduct a complete and thorough investigation," Osechkin stated with indignation. He noted that an anti-corruption investigation should also be carried out, since such a huge production could not exist without the complicity of local officials.
The human rights activist revealed that by now information about the migrants has been sent to the embassies of their home countries and in a couple of days, as soon as their documents are prepared, they will be sent home.
Nikita Mkrtchyan, a member of the Institute of Demographics of the Higher School of Economics, does not exclude the possibility that there really are former slaves among the detainees in Golyanovo.
"Human trafficking is a global problem and it exists in all countries. Russia is also a country that has problems with illegal exploitation and, less frequently, it also experience thefts of its own people," he explained. The scientist noted that such cases should be dealt with by the police in cooperation with human rights activists. "The thing is, people who have found themselves in a difficult situation are often afraid to go to the police, but they do trust human rights activists," concluded Mkrtchyan.
That people were being forcibly exploited in the Russian capital had also been previously suggested by Danil Medvedev, a human rights activist from the Russian Trans-Humanitarian Movement. He wrote in his blog that last year it was in Golyanovo that he personally encountered slavery in Moscow for the first time.
Back then, the movement managed to free 10 women, but the police tried to accuse these slaves of being "illegal immigrants". No criminal charges for slavery and slave trade were made in that case.
The human rights activists believe that the case unveiled in Golyanovo is only one of the many existing, but they consider closing even just one factory a great step forward.
"These people were rescued and freed. They do not understand everything that is happening to them, because previously they only knew the factory where they were kept as slaves. They do not know what to expect, but for them this camp is a place where they get some rest from the exhausting slave labor, 12–14 hours a day without salary — deportation is for them a chance to return to a normal life at home, not a punishment. An illegal immigrant who does not obtain a work permit, but is free and works for a salary, is not the same as a slave having no rights and working with no pay for his owner," added Danil.
According to the media, more than one million slaves contribute to the Russian economy. It should be noted, however, that most of the statistics are 13 years old. Danil says that nothing serious has been done over the past decade in Russia to combat slavery, and the situation may have become even worse.
All rights reserved by Rossiyskaya Gazeta.